PRESS RELEASE
Compro Technology, a leading manufacturer of PC-TV, digital audio/video, and IP security products for the IT and consumer markets, today announces its Embedded RS-2208 Network Video Recorder to provide a reliable recording solution and high image quality of IP-based surveillance system. Also, the RS-2208 is expressly designed for surveillance applications in homes as well as small and mid-sized businesses.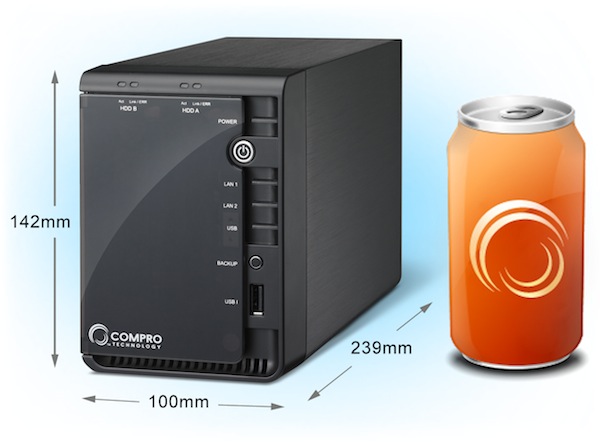 Measured only 23 center meters long and 10 center meters wide, and standing slightly taller than a coke can, the RS-2208 can nicely fit anywhere in a home, shop or office. The dual 3.5" drive bay provides a maximum storage capacity of 6TB, and can be accessed by simply opening the front lid, sans the hassle of opening the case. A one-touch backup button and a USB port on the front panel enables fast and easy data backup to USB storage devices. The Gigabit Ethernet port at the rear panel ensures fast and stable connection with Compro IP cameras as well as ONVIF-compliant network cameras. Power-efficient design also keeps the energy cost in check when running the RS-2208 24/7.
For main features
The RS-2208 network video recorder is embedded with robust Linux system and support H.264 live monitoring and recording. The RS-2208 can record 8 megapixel channels concurrently, that means can record H.264 megapixel video from up to 8 IP cameras simultaneously. The RS-2208 also supports RAID-0 and RAID-1 for better drive performance and an additional layer of data security. In addition, the friendly browser interface makes it straightforward to view and record camera video, as well as to play back and search video recordings on the RS-2208. The event notification feature allows the sending of Email or SMS alert message when event occurs at the monitored location.
For installation and setup
The RS-2208 utilizes the intelligent Compro iWizard to make the process easy and effortless. Searching and adding available IP cameras on the RS-2208 takes just a simple mouse click. The network video recorder can be accessed remotely over the Internet by using the free Compro DDNS service which enables you to create an easy-to-remember domain name that links to your NVR's current public IP address, which means you can forget about the unfriendly IP address and log in to your NVR with a unique domain name of your own.
According to Hans Chang, Director of Product Marketing at Compro Technology, the launch of the Compro RS-2208 signifies a new era in the NVR(Network Video Recorder) market where linkage with the cameras is simplified to a single click of a button. This will enable the quick adaptation of Compro's NVR in the SoHo market where users were often bogged down by the knowledge required in the setup.
**For the RS-2208 NVR product details, please click here: http://www.comprousa.com/en/surveillance/product/RS2208_2212/index.html
About Compro Technology
Compro Technology, Inc. has been an innovative leader in the design and development of consumer and industrial imaging applications since 1988. Compro Security offers workable and affordable H.264-compressed, high-definition (HD) network cameras, intelligent surveillance systems, a variety of system integration devices, technical know-how, and much more. For complete product and corporate information, please visit www.comprousa.com/en/surveillance or write to security@comprousa.com.