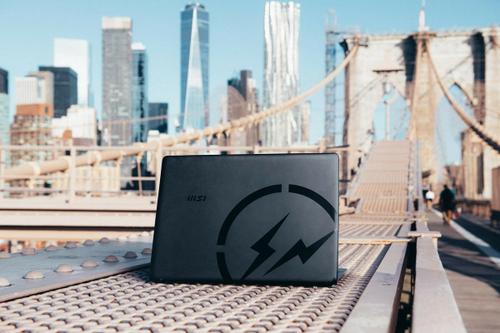 Released Today for Pre-Order, the Fragment Design Creator Z16 Limited Edition!

MSI's beautiful Creator Z16 Laptop has been the star of many popular reviews since its recent launch earlier this year. A premium workstation in a beautifully designed package, the Creator Z16 has set the standard for how a laptop should perform.

The premium laptop brand recently announced the exciting collaboration with Fragment Designs, the world-famous streetwear brand that's directed by Hiroshi Fujiwara the godfather of street fashion.

This is the world's only laptop that the guru of street fashion has ever worked with, creating a masterpiece at the forefront of design and specification. Merely 3,000 pieces are released worldwide for this co-branded laptop, expect stock to sell out quick.
To back up such a beautiful design, the Z16 limited edition package boasts some of the best hardware available in a portable computer. Featuring the most powerful Intel 11th Gen i9 CPU, Nvidia RTX 30 Series GPU, a MiniLED screen built on the beautiful 16:10 Golden Ratio the Z16 Hiroshi Fujiwara really is a force to be reckoned with and a sight to behold.

Fitting in beautifully with street fashion influencers, content creators or those just seeking the perfect balance between style and performance this is the only laptop you will need.
Only available online at British electrical retailer Currys from today Friday the 22nd of October 2021 for pre-order, you will need to ensure you're queuing now for the very limited stock.
The limited edition package will include the Fragment Designs Z16 Limited edition, laptop carry case, mouse mat and mouse all featuring the same one off design.
For more information on the laptop follow the link to MSI UK's website: Hiroshi Fujiwara Limited Edition
To make the purchase, please follow the link to the Currys website: Here
MSI Website: https://uk.msi.com/
MSI Facebook: https://www.facebook.com/MSIUK
MSI Instagram: https://www.instagram.com/msigaming_uk/
MSI YouTube: https://www.youtube.com/user/MSIGamingGlobal
MSI Twitter: https://twitter.com/msi__uk
MSI LinkedIn: https://www.linkedin.com/company/273851/