Everyone's PC Partner?



Fancy starting your own graphics card or mainboard business based on the technology of ATi VPUs and chipsets?

In an exclusive interview for HEXUS at CeBIT, we find there's a partner willing to help.

PC Partner is a company that may not be familiar to a great many of you, but its new Chief Executive Officer seems on a drive to change just that.

PC Partner is the manufacturer which produces some 60-70% of all ATi Technologies' discrete graphics cards and mainboards. And with ATi's relatively recent new found lease of life - which ATi claims has rocketed it to the number one position in terms of discrete graphics sales - and as its most significant manufacturing ally, PC Partner is clearly a major player on the move.

But considering its fiscal size and even its influence over the PC industry, perhaps you'll find the relative obscurity of the PC Partner brand name surprising.

However if you're a regular HEXUS reader, and you've bought an ATi graphics card in the past few years, chances are that it will have been branded Sapphire Technology; and if you've recently been in the market for a good value AMD Socket 939 mainboard based upon either the new ATi RS480 or RX480 chipset, (respectively, with and without integrated ATi HyperMemory graphics) and where rock solid stability was sensibly a more important consideration than ultimate tweakability, then an EQS mainboard should have topped your list; in which case, in some respects you're already a PC Partner customer – in that PC Partner is, it seems, the exclusive contract manufacturer for Sapphire and EQS. We're not saying that Sapphire and EQS are the retail brands of PC Partner, indeed Sapphire for example is very keen to clarify that PC Partner and Sapphire are entirely independent entities, but as Sapphire alone can call upon PC Partner to manufacture some 18 million graphics cards per month, the relative success of each company comes across as intrinsic.

But the sales of Sapphire graphics cards and EQS mainboards don't account for the full 60-70% of all the ATi Technologies graphics card and mainboards mentioned, and whilst it will vary from product to product and even the demands of the time of the year, we believe that PC Partner is the contract manufacturer for other big name AIB (Add In Board) customers of ATi such as Connect3D and the innovative GECUBE.

So as the manufacturer with decidedly the lions share of ATi's business, what ambitions remain for PC Partner? Speaking exclusively to HEXUS, PC Partners' CEO - Tony Wong - took some time to introduce his company, its background and share his thoughts.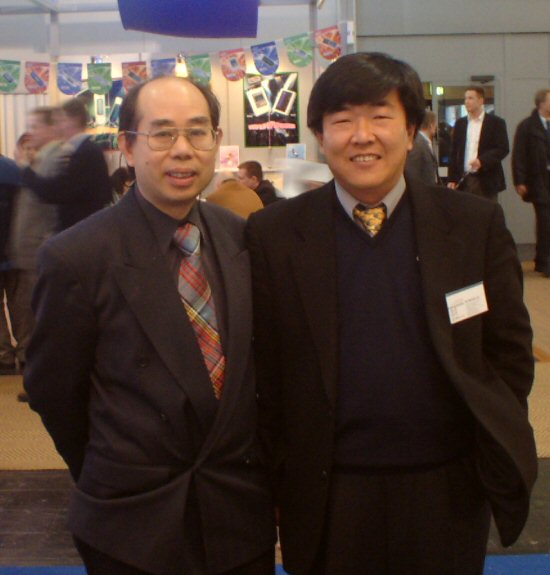 Ray Cheung (left), key UK tech guy for EQS mainboards, stands with PC Partner CEO Tony Wong



PC Partner was founded in Hong Kong on 1st July 1997 and Tony Wong is one of the original four founders, the other three being F.P. Wong, Kan Leung, and the late Boscoe Ho.

And it's at this point I'd like to point out that it wasn't all good news for PC Partner last year, or indeed Sapphire Technology, as both companies saw the tragic loss of two of their most prominent and respected officials; PC Partners then CEO, the aforementioned Boscoe Ho, passed away, as did Sapphire Technology's hugely popular point man Brian Skelton. So it was against the sad backdrop of the early deaths of these two respected men, which Tony Wong found himself taking the reigns of PC Partner.

Tony explained that the PC Partner of today came about as a result of effectively a management buy-out of the PC division of the electronics company V-TECH. At that time Tony, Boscoe, F.P Wong and Kan Leung were apparently all employed at V-TECH, but that V-TECH wanted to devolve itself of its PC business, which seemed to trade under the styles of Laser and PC Partner. Consequently a deal seems to have been struck, and Tony and his three partners then decided to take the PC Partner brand name, and haven't looked back since.

Initially the primary products offered by PC Partner seem to have been mainboards, but building upon a long standing friendship between Boscoe Ho and K. Y. Ho – the founder of ATi Technologies – (apparently no blood relation) negotiations and agreements during the course of 1998 and early 1999, soon saw PC Partner establishing itself as ATi's most strategic partner.

At that time each of the four founders of PC Partner assumed very specific roles; Boscoe primarily dealt with administration, finance and company development matters; Tony Wong was responsible for sales and marketing; F.P. Wong procurement, and Kan Leung was the tech guy, who dealt with research and development and factory production issues. It was this structural foundation which now sees PC Partner employing more than 4000 people globally, with some 3,700 of them based in its factory, two hours north of Hong Kong in Dong Guan in China.

PC Partner is certainly a South East Asian success story, but something Tony was particularly emphatic about was that, as much of the global IT market seems dominated by Taiwanese manufacturers, its particularly a success story for Hong Kong - and Hong Kong is where PC Partner still proudly retains its headquarters. Indeed it was pointed out that PC Partner might be the single listed survivor of the Hong Kong IT industry.

We don't know which part of the PC Technology business doesn't face stiff competition, and interestingly, when questioned Tony cite ASRock - the subsidiary of the Taiwanese company ASUSTeK - as one its' primary commercial competitors. Our understanding is that ASRock was established by ASUSTeK to go after extremely cost-conscious markets without devaluing the ASUSTeK brand name. These cost-conscious markets have at times been seemingly dominated by PC Chips, and to some extent products from its' ECS Elitegroup brand, and we're wondering whether the aggressive moves which PC Partner is responding to, are the same forces which have catalysed ECS Elitegroup to refocus on the mid-high range products?

A contract manufacturer for the then mighty IBM's PC business, back in the 80's and early 90's ECS Elitegroup was as strong a brand as ASUSTeK. And ECS Elitegroup's current delivery of producing increasingly competitive, high spec mainboards implies a significant allocation of resources to bring these products to market, and perhaps this is a strategic move to light a fire in ASUSTeK's back yard? It's rumoured that ASRock poached one of ECS Elitegroup's key people to push forward its manufacturing operations in China, so perhaps in the boardrooms of these companies there's a also degree of personal motivation in some of the decision making?

In context will PC Partner's awareness of ASRock's activities in some areas of it's own space, be a catalysng factor in its own future commercial activities? ASUSTeK, now a big volume ATi customer, (yesterday one of its officials confirmed that after only a year or so of incorporating ATi VPUs in its product range, its sales are around 50/50 ATi/NVIDIA) is already in the consumer electronics space, and when questioned over the future ambitions of PC Partner, Tony explained that momentum is gathering within PC Partner to fully establish a new division focused on consumer electronics, initially starting with MP3 players.

With the passing away of Boscoe Ho – whose personal relationship with ATi's founder seems to have been at least the start of the PC Partner and ATi relationship – and with Dave Orton now steering the ATi ship, could PC Partner be consolidating its position should ATi be considering it's manufacturing options with ASUSTeK?

And what would NVIDIA's response to this be? After all, there been some interesting shifting of alliances in the past 18 months – at the high end of these games, and off the back of it's PCIe chipsets for Socket 939, ATi seem to have found love in the arms of NVIDIA's formerly exclusive sweetheart AMD, and NVIDIA itself has just gone public with yesterdays announcement of its nForce 4 platforms for Intel processors. Whilst at the sharp end we've seen a multitude of previously, almost exclusive NVIDIA partners, such as ABIT, ASUSTeK, Gigabyte and MSI find affection, and profits with ATi products.

Palit another significant contract manufacturer for ATi apparently also undertakes some AIB manufacturing for NVIDIA customers, so you can see where the possibilities lie.

In any event, for the present, PC Partner looks to be as rocking as ATi, and Tony Wong came across as guy on a mission, hungry to see his company move to even greater successes. For someone who can obviously afford a nice meal, his hunger for new challenges surprised me somewhat. It seems that for for the past nine years or so PC Partner have been happy to remain in the background as the anonymous contract manufacturer, powering solutions driven at the front end by major, high profile customers. But when questioned as to PC Partner's and his own ambitions, it seemed clear that Tony wanted his companies identity and successes recognised by a wider audience, and he stated that energy and resources are being put behind developing PC Partner brand visibility.

I left Tony thinking that that on balance the odds were on his side, and working with HEXUS sure seems like a step forward in the right direction.