The Nvidia SHIELD Tablet (K1) was recently re-launched after the fire hazard problems earlier this year meant many original tablets were recalled and the product became unavailable. As noted by some HEXUS readers – why did Nvidia launch this while there must be a new Nvidia SHIELD Tablet X1 in the works – based on the newer, more powerful SoC? Well, it's probably to create a range of tablet products at different price points.
New signs that a Tegra X1 based tablet is in the advanced stages of production have been seen over at GFXBench, via GSM Arena. A prototype tablet which appears to sport an Nvidia Tegra X1 (Cortex A57 – ARMv8) SoC was found in the benchmarks on the site. You can see the rest of the known tablet specs in the screenshot embedded below.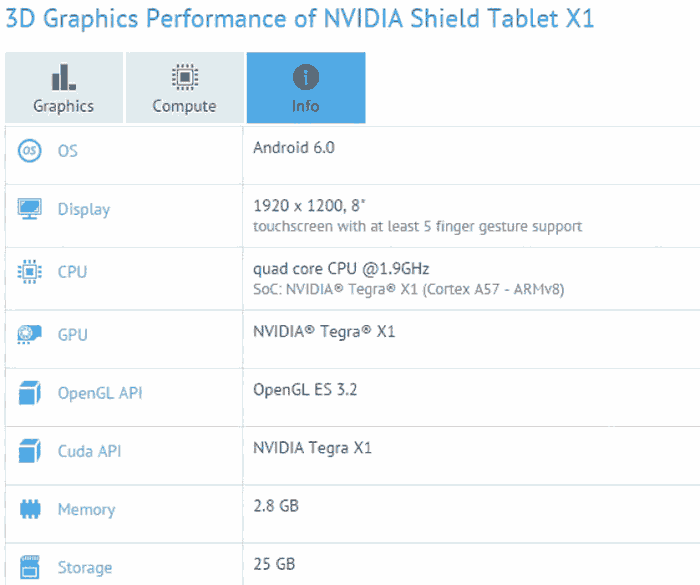 The Nvidia SHIELD Tablet (X1) appears to have a quad-core processor in the benchmark but I assume that's due to the less powerful cores taking a breather during the benchmark, and/or a simple misreporting by the benchmark app. Nvidia's 20nm Tegra X1 offers "over one teraflops of processing power" – both twice the computing power and twice the power efficiency of the Tegra K1.
Tegra X1 SoC specs
GPU: NVIDIA Maxwell 256-core GPU
DX-12, OpenGL 4.4, NVIDIA CUDA, OpenGL ES 3.1, and AEP
CPU: 8 CPU-core, 64-bit ARM CPU
4x A57 2MB L2; 4x A53 512KB L2
VIDEO: H.265, VP9 4K 60 fps Video
4k H.265, 4k VP9, 4k H.264
POWER: 20 nm SOC – TSMC
Isolated Power Rails, Fourth-Generation Cluster Switching
DISPLAY: 4K x 2K @60 Hz, 1080p @120 Hz
HDMI 2.0 60 fps, HDCP 2.2
We have no indication when Nvidia might launch the new X1-based tablet or its pricing, so we will just have to wait for more information. Meanwhile you can enjoy another device with a Tegra X1 beating at its heart, at a cut price, thanks to 'Black Friday'…
Nvidia SHIELD Android TV Black Friday offer
Nvidia has emailed HEXUS to let us know that its SHIELD Android TV will be on sale from noon today at £119.99. This is a pack which includes the console, a wireless controller and the SHIELD remote. We are told that the bundle without remote normally has an RRP of £149.99.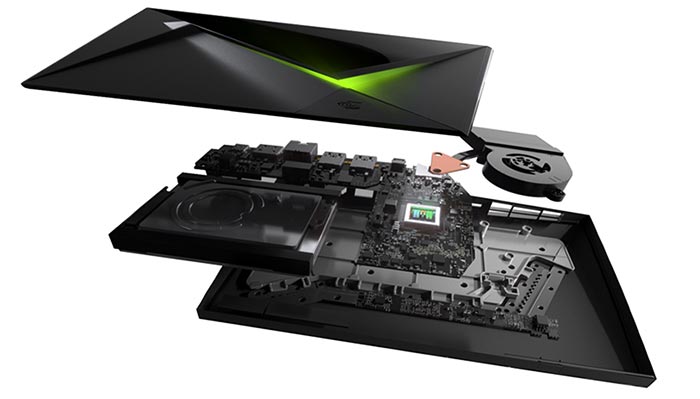 If you are interested in smartening up your TV, with support for apps like Netflix, iPlayer, Plex, Hulu, Google Play App Store and many more, plus gaming chops provided by the SHIELD enhanced Android games and GeForce NOW, this could be an interesting proposition.