Nvidia has refreshed and relaunched its 8-inch SHIELD Tablet. In an email to HEXUS the green team marketing department said "Fans have asked for it, so we're bringing back the ultimate tablet for gamers — at a great new price of £149. And, it's just in time for Christmas!" It's basically the same tablet as before but its name carries the suffix 'K1' and the only version available is the 16GB storage capacity tablet with Wi-Fi.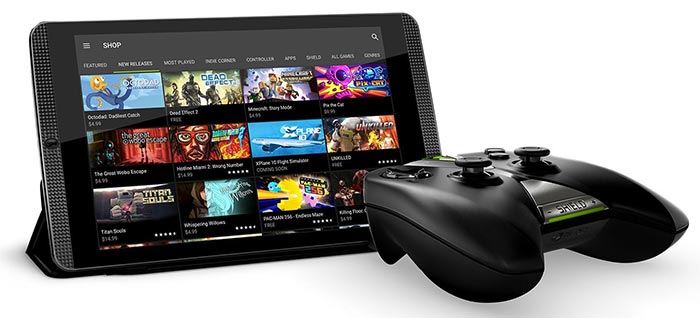 The previous generation of SHIELD tablets were subject of a widespread recall back in July. The affected units were said to be a fire hazard due to the Li-ion battery cells installed, and it wasn't a user-swappable part. However Nvidia appeared to be relaxed about returns and efficient at supplying new, safer tablets to customers.
Several months later the Nvidia SHIELD Tablet K1 remains a pretty powerful gaming orientated tablet. To recap on it's most important qualities; it has an Nvidia Tegra K1 processor, which features a 192-core Nvidia Kepler GPU and 2.2 GHz quad-core CPU, it has 2GB of RAM, and an 8-inch 1920 x 1200 display, plus 16GB of built-in storage with microSD card expandability.
There have been a few little changes to the tablet, as noted in a hands-on over at Android Central. The front facing speakers are now covered with soft touch rather than hard shiny plastic and there's no longer a stylus silo – as the devices doesn't ship with a stylus anymore. If you want a stylus Nvidia will sell you one for £14.99 ($20, 19,99€). Other accessories you might want are the official tablet cover at £14.99, a SHIELD controller at £49.99 and the official charger at £17.99.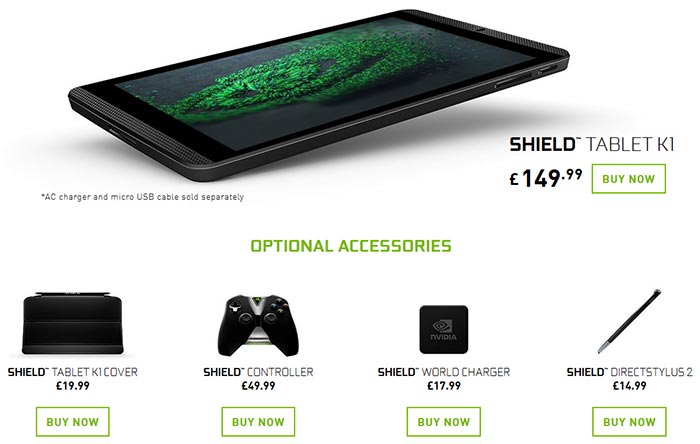 On the software side of things, your new SHIELD Tablet K1 will come with Android 5.1.1 Lollipop with an update to 6.X Marshmallow promised. In the software lineup you get to see some key Nvidia exclusive attractions; an Nvidia SHIELD optimised games library and the option to join GeForce NOW, a subscription service (£7.49pm with the first 3 months for free) to play a range of PC titles on your portable.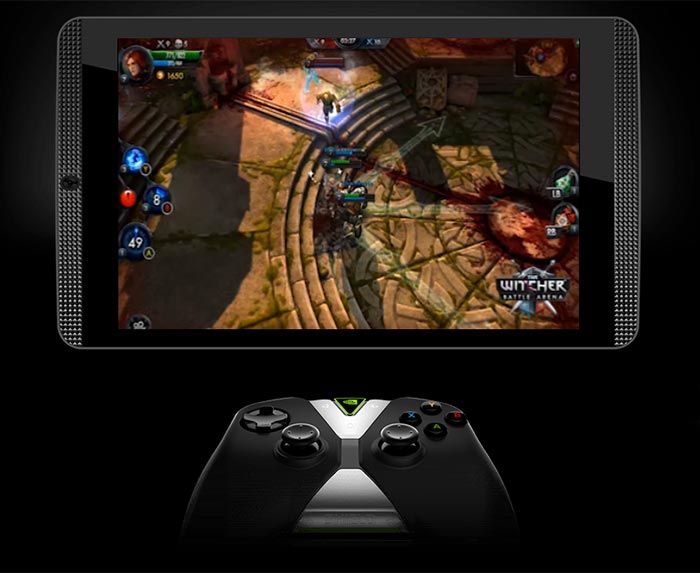 The Nvidia SHIELD Tablet K1 is available right now here in the UK, straight from Nvidia or from SCAN. Its new UK price is £149 (in the USA it costs $199).
In a related piece of Nvidia madness, the green team published a video yesterday showing someone gaming on an Nvidia SHIELD TV while freefalling from an aeroplane. Please see below.