Samsung has announced the new Galaxy Tab A with 9.7-inch screen. The device will become available in the UK from 21st May. Samsung says that the new device "introduces a new screen size designed to create an improved viewing experience alongside high-performance features". That new screen is a 9.7-inch diagonal 4:3 ratio display. Bucking the trend of increasing pixel densities on offer in mobile devices, the screen offers just 132 pixels-per-inch – it's an XGA resolution display with just 1,024 x 768 pixels.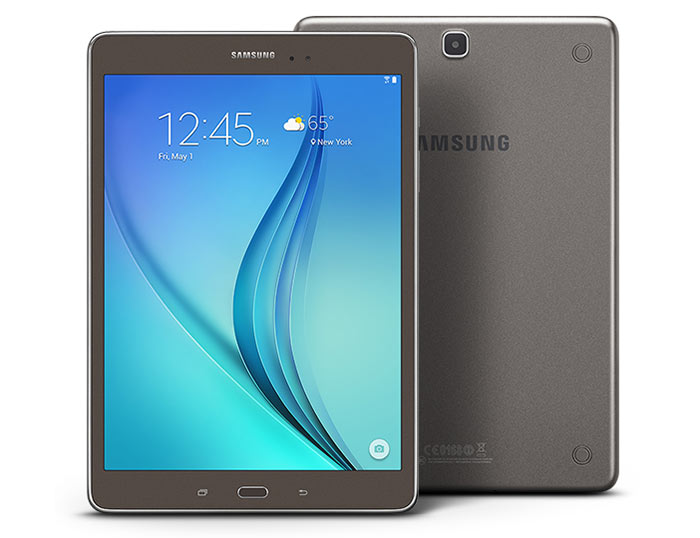 While Samsung's screen choice might sound a bit old-fashioned much of the remaining hardware is modern, if not impressive. Starting with the most impressive stats, the Samsung Galaxy Tab A is built into a compact slim body measuring 167x242x7.5mm and weighing as little as 450g (Wi-Fi only version). The tablets also sport the latest Android Lollipop OS, up to 2GB of RAM (1.5GB in Wi-Fi only version), expandable storage, up to 12 hours of video playback on a single charge and are powered by quad-core 1.2GHz Qualcomm Snapdragon 410 processors.
The "affordable" range of tablets are described by Conor Pierce, Vice President IT and Mobile, Samsung Electronics UK and Ireland, as follows: "The Galaxy Tab A has the power and performance our customers have come to expect from the Samsung Galaxy range, and with Wi-Fi, LTE and S-Pen versions available we are offering people more choice when it comes to picking a device that best suits their lifestyle". Pierce went on to boast of the screen offering "a new screen ratio designed to optimise the viewing experience," concluding that the Tab devices are perfect for everyday use. Samsung's PR goes on to talk up the choice of the XGA screen as offering "a better-proportioned and more natural viewing experience," especially for web pages, e-books and e-magazines.
Other common specs of the Samsung Galaxy Tab A, not listed above include; a 5.0MP AF rear (main) camera + 2.0MP front camera, MicroUSB (11pin), 3.5mm Ear jack connectors, GPS + GLONASS, Wi-Fi 802.11 a/b/g/n, Wi-Fi Direct, BT 4.1, USB2.0 (plus LTE, 3G and 2G on the LTE model). The S Pen version also come with Samsung's stylus and associated apps. It is the heaviest model, weighing 487g.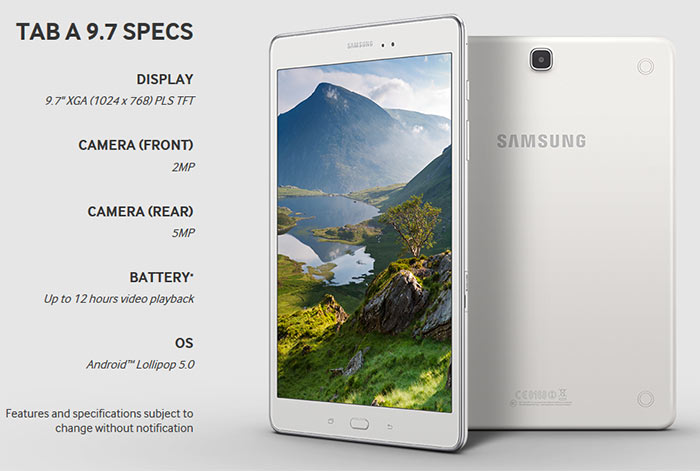 On the software side of things, as well as Android 5 Lollipop, Samsung has implemented its own enhanced camera software, SideSync 3.0 screen sharing, Multi-Window, Quick Connect streaming and an enhanced 'Kids Mode'. Microsoft's apps come pre-installed its Office suite, Skype and OneDrive are all ready to go on the new tablets.
The Samsung Galaxy Tab A range will become available in the UK from 21st of May, just a week from now. We weren't informed of any intended recommended retail pricing for the UK but in the US the 9.7-inch Samsung Galaxy Tab A series tablets are priced from about $299.