We wrote about the new Nvidia GRID on-demand gaming service yesterday. Nvidia is starting to roll out this cloud gaming initiative on its SHIELD tablet as a beta test (for free until July) with 20 AAA titles in tow. Gamers with this portable should expect 'streamed' game image quality on a par with running a discrete GeForce GTX 760 GPU in a PC, we are told.
Owners of the SHIELD tablet received another couple of goodies from Nvidia yesterday, beyond the GRID gaming news. The Nvidia Blog announced that Android 5.0 Lollipop will be available for its tablet and a 'Green Box' bundle will be provided for free to SHIELD tablet buyers containing three iconic Valve games.
Lollipop will start to become available in an update to your SHIELD tablet from Tuesday 18th November. This is due to Nvidia's "commitment to have the latest and greatest software for your device," so hopefully SHIELD portable and Tegra Note owners will benefit from Lollipop updates soon. Android Lollipop only started to roll out about a week ago so Nvidia has been pretty quick to wrangle it over to its latest tablet. The update will bring all of the latest Android niceties including the new material design, being able to "pick up where you left off" from one Android device to another, more notification options, battery saving features, performance and security enhancements.
As a bonus to its SHIELD tablet owners Nvidia is also going to give away the Dabbler painting app offering full layer support and live sketching and painting session sharing over Twitch. See the video above for more details about that.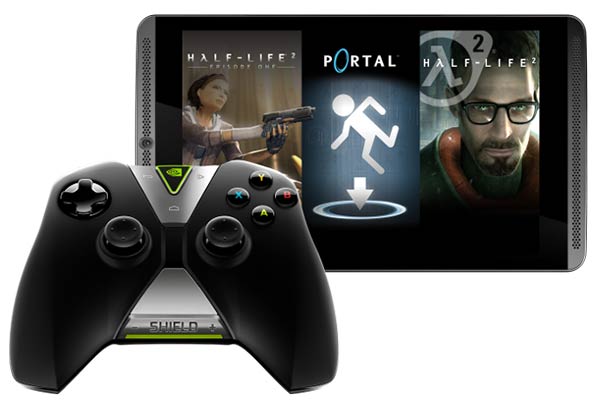 The newly announced 'Green Box' bundles three Valve games together in a bundle that will be given free to buyers of the 32GB/LTE version of the SHIELD tablet. "Half-Life 2: Episode One from Valve – is coming to mobile, optimized for Tegra K1 and exclusively on SHIELD tablet," proclaims Nvidia. This legendary game plus Half-Life 2 and Portal, previously available on the SHIELD platform, make up the 'Green Box'.
Finally Nvidia let us know that four further SHIELD-optimized games will be available through Google Play soon. Oddworld: Stranger's Wrath, Pure Pool and Strike Suit Zero are on their way, joining the recently released Turbo Dismount.