We saw the official reveal of the Nvidia Tegra Note in mid-September after a brief glimpse of the tablet at Computex in June. So we had some specs pictures and blurb about how it works and the performance on offer. Now, thanks to Notebook Italia, we have a couple of videos of the Tegra Note reference design in action; a promo video and an introductory demonstration video showing the Note's innovative stylus being utilised.
Nvidia start the promo video boldly fanfareing the Tegra Note by saying "Meet the world's fastest 7-inch tablet," powered by a quad-core Tegra 4 processor. We are informed that the Stylus response is "3X faster" due to the Nvidia DirectStylus system design. We see that the Stylus uses a chisel point to apply different thicknesses of line, rather than rely upon a pressure sensitive system favoured by many other dedicated styli.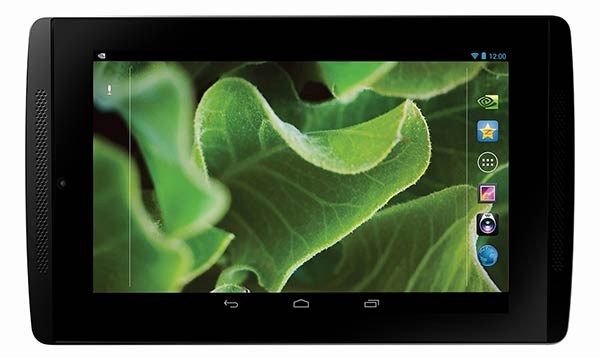 Other aspects of the Tegra Note are praised; sound is enhanced by Nvidia PureAudio, the "deepest, richest sound" from a tablet, we are told. The camera offers 'Tap-to-Track' an automatic subject tracking, focus and exposure system.
Moving onto graphics and gaming Nvidia claims a particular strength in graphics as it is "the leader in gaming technology". The Tegra Note promo video then focuses upon game demonstrations, showing various Tegra optimised titles in action. To conclude the video we see the tablet with a Nyko Bluetooth controller which offers "console-quality gaming" in the popular portable tablet form.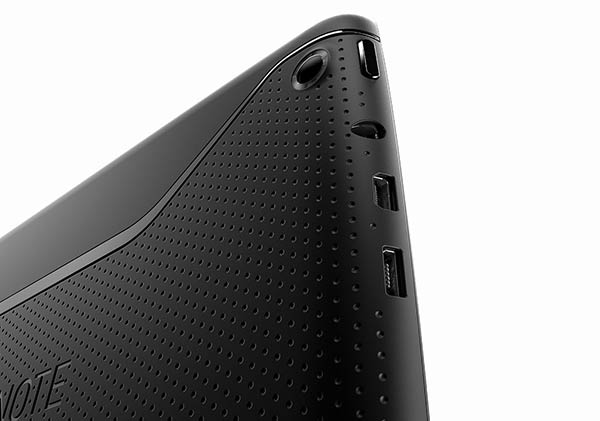 The specs of the Nvidia Tegra Note are as follows
Processor: Tegra 4 mobile processor with quad-core Cortex-A15 CPU (with a fifth battery-saver core) and 72-core GeForce GPU
Display: 7-inch HD IPS LCD display (1280 x 800)
Camera: Rear 5MP and front VGA webcam
Storage: 16GB storage with microSD expandable up to an additional 32GB
Audio: Front-facing "HD Audio" stereo speakers with a unique bass-reflex port
Stylus: Chisel and Brush tips for natural writing and broad strokes
Peripherals: Micro HDMI connector to drive big screen TV videos and gaming
OS: 100% Android with latest version of the OS
Software Updates: Over-the-air software updates directly from NVIDIA
Battery Life: 10 hours HD video playback
Suggested retail price of $199
Nvidia DirectStylus
This next video concentrates on what Nvidia must hope is a winning selling point for its Tegra Note offspring made by its AIB partners. If you've looked at and read reviews of the Galaxy Note tablets they are commonly highly praised for their utility value but not for their value for money. Samsung's Galaxy Tab range of tablets are much cheaper than comparable Galaxy Note versions – so you have to really want the S Pen if you are going to fork out the extra cash required for such a tablet.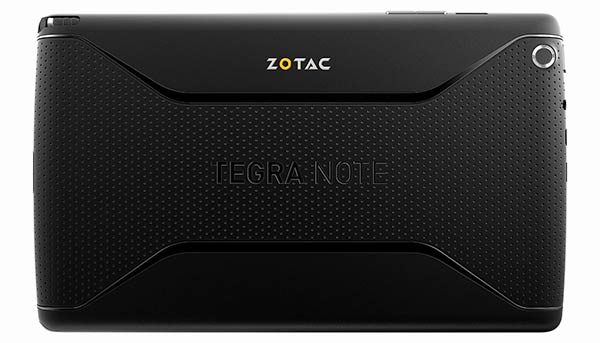 The Nvidia Tegra Note seems to share a lot of functionality with the Samsung Note rivals in the way the stylus is used for the following:
Launcher - the tablet detects the stylus and opens a stylus oriented launcher page of shortcuts
Lasso capture
Camera photo editing (and bundled Camera Awesome app)
Signing and annotating PDFs
Making good use of arty apps such as Photoshop Touch and Sketchbook Pro
Notebook Italia says the Tegra Note will be made available today in the US and in "a few days" in Europe. The US price for a Tegra Note is said to be $199.99, and in the UK it will be £179.99. Advent is going to be launching its own branded version, the Advent Vega Tegra Note, available from Currys or PC World, pre-orderable now and expected to ship from 16th November.