The Mobile World Conference 2013 has kicked off in Barcelona. One of the most "notable" new products of the day is this new tablet by Samsung; the Galaxy Note 8. Just over a month ago we saw some leaked images and specs for this Samsung Galaxy Note 8 and looking back all the info was surprisingly accurate, very close to the actual specs.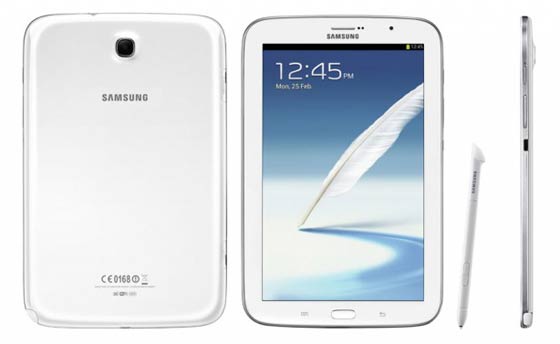 Samsung has already made a couple of 7-inch tablets and some larger 10-inch tabs. However it didn't have a 7-inch "Note" tablet, now it will have this 8-incher in the stable. Is this new size a reaction to the iPad mini 7.9-inch screen? Obviously we can only speculate. So let's get on and look at the facts, the newly revealed spec of the Samsung Galaxy Note 8...
Samsung Galaxy Note 8 Specifications
CPU: A9 quad-core processor running at 1.6GHz (upgraded from the Note 10.1's 1.4GHz)
Storage: 16GB or 32GB
RAM: 2GB
Screen: 8-inches, 1280x800 189ppi
Stylus: Pressure sensitive S-Pen
Physical properties: 210.8 x 135.9 x 7.95 (mm), 338g (Note 10.1 is 597g)
Connectivity: USB, microSD card, Bluetooth 4.0, Wi-Fi, 3G optional
Cameras: 5MP, 1.3MP
Battery: 4,600mAh
Software: Android 4.1.2 Jelly Bean, Google Play Store, S-Pen software, 20 split-screen apps
Price/Launch date: £???/Spring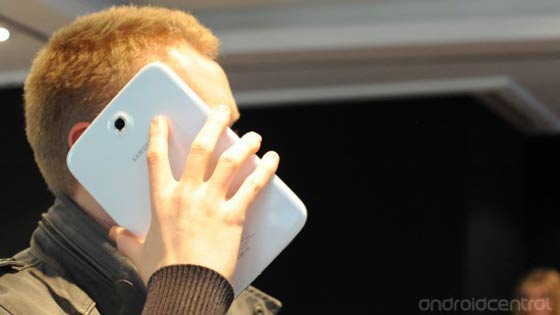 So now Samsung Galaxy Note fans have a good middling choice between the Samsung Galaxy Note II at 5.5-inches and the Samsung Galaxy Note 10.1. While the new Galaxy Note 8 may be a desirable product there's not anything revolutionary about it, it's just Samsung filling in a gap in its product range. If it will prove to be a size sweet spot, if an 8-incher works out better than a 7-incher would have, we shall have to wait and see.