In our second video from Uplinq 2012 tonight we have a demonstration of two Windows RT tablets playing the Vendetta Online space combat MMOROPG. The game-play looks smooth with clear well defined 3D graphics. In the demonstration two players meet in combat from separate continents; one player in Taiwan and the other in the USA.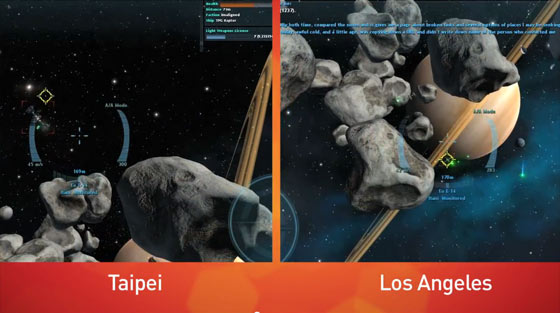 This combination of fluid high resolution game-play and swift network communications via LTE is enabled, says Qualcomm, by hardware utilising their Snapdragon S4 Processor.
The video script is as follows;
"Wireless gaming over LTE.
2 players across the globe (In Taipei, Taiwan and LA, California).
Simultaneous game-play over LTE.
Full 3D immersion, true multiplayer over the fastest connection.
Smooth game-play no matter where you are in the world.
Gaming on Windows RT demonstrated on two ARM test PCs with Snapdragon S4 processors.
Play more.
Recharge less."
The video below shows the Windows RT test PCs in action.
New games announced for the Snapdragon GamePack.
Also today at Uplinq 2012 we have a new selection of games announced to add to the over 100 titles already on the roster of Snapdragon-enabled titles on Android and Windows smart connected devices. "The new games include critically acclaimed "Max Payne Mobile" from Rockstar Games, "Cut the Rope" from ZeptoLab, "Death Rally" from Remedy Entertainment Ltd., and "Team Dragon" from Khaeon Gamestudio". All those games will be launched with a one-year exclusive on Snapdragon-enabled devices. In addition Qualcomm has entered into an agreement with Gameloft to bring 23 of its titles to Google Play as part of the Snapdragon GamePack.
Android already suffers from OS fragmentation and it seems like more and more games are being optimised for this or that hardware. Interestingly Android Central show a "Tegra 3 game" Riptide GP, running on a Snapdragon S4 just as nicely, with all water effects, motion blurs etc as on its intended hardware. However there are other Tegra 3 games that won't even load on the Snapdragon equipped handset they used.