Fellow computer news and reviews site Neowin.net have published a leaked page from a Dell document showing a Windows 8 based tablet called the Dell Latitude 10. Highlights of the revealed spec are that the tablet will have a 10.1" 1366x768 screen (approx 155 ppi), be powered by an Intel Clover Trail Atom Dual Core CPU with integrated graphics, have 2 Gb of RAM and an SSD drive and also run the upcoming Windows 8 OS.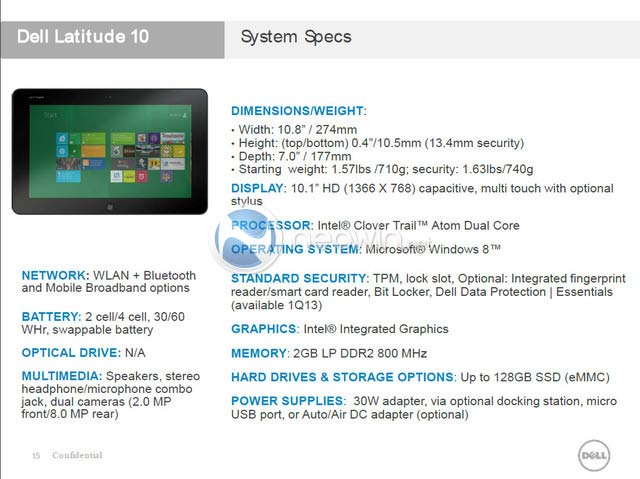 A nice touch is that the Latitude 10 tablet will come with a choice of batteries that are also swappable so you can pack a spare. Weighing in at 0.71Kg and being 10.5mm thick the tablet is a little heavier and fatter than the iPad 3. From the tiny picture we see in the leaked image the look of the tablet is not especially stylish, it could be a £79 Chinese Android effort. However the tablet shares quite a lot of the qualities of the current Dell Latitude ST Windows 7 tablet (customer rating 2.8 out of 5 on Dell's own site) which is priced at $759!
There are no prices on the leaked document image however the Latitude is a business orientated line of computers so Dell might have other Windows 8 tablets at more consumer friendly prices being released. The other figures we would like to know but are omitted are the release date and the CPU speed.
Dell recently posted their Q1 results and the news was not good. Sales of Dell Notebooks and mobile devices were down 10 per cent and net income was down 33 per cent. As a result Dell shares have fallen from over $15 on Tuesday to $12.45 today. Just like Hewlett-Packard, Dell are pinning their hopes on Windows 8 and tablets coming to the rescue. Michael Dell said "Unlike other Windows transitions, this is a transition where you generally are going to need a new PC, whether it's a tablet or Ultrabook with touch or a notebook with touch or a PC with touch or some derivative hybrid on all the above type of products. We're preparing a full complement of products, and we'll be ready with those."
Will upcoming Windows 8 tablets be able to carve enough profits from the tablet market currently dominated by Apple and Android devices? Computer hardware giants Dell and HP, on the back of recent poor results, are betting on it. Technology analyst, Chris Green, speaking to the BBC also thinks it is a big opportunity; "We see Windows 8 as opportunity for all the PC manufacturers to reclaim the huge ground that they have lost to Apple and some of the other Android tablet makers"