Samsung may be planning a couple of variants of its hybrid smartphone and tablet device, the Samsung Galaxy Note.

A new Wi-Fi certification has cropped up this week showing two new Samsung devices with the model numbers GT-N8000, GT-N8013 which ties in nicely with the model number of the Galaxy Note, GT-N7000.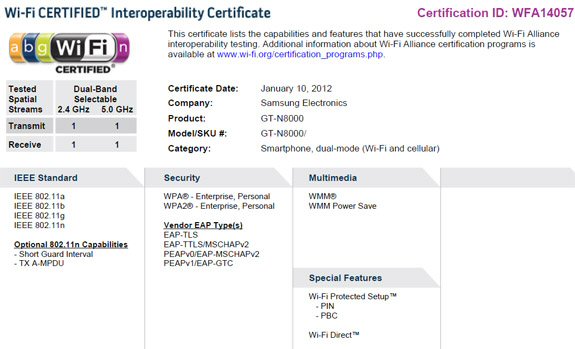 Speculation is rife as to whether one of the new models could be a larger-screened version of the Galaxy Note, which already sports a 5.3in Super AMOLED WXGA display. The listing could, of course, be for two totally new devices.

Both models have been labeled under the smartphone category on the certificate, and are listed as supporting Bluetooth connectivity and dual-band WiFi a/b/g/n.

Samsung has been extremely busy at CES this week, unveiling a host of new products, including the thinnest notebook in the world, new smartphones, TVs, and even a host of Smart kitchen appliances.