From a distance, it's difficult to tell most tablet devices apart. That's not a risk for NEC's new LT-W cloud communicator though, which features not one, but two 7in screens in an innovative booklet-type design.
The device will run an unnamed SoC based on the ARM Cortex A8 design that we've come to be so familiar with alongside 384MB RAM and 1,024MB ROM. All of this will be used to run Android, although it looks like it'll be stuck with version 2.1 for at least the near future.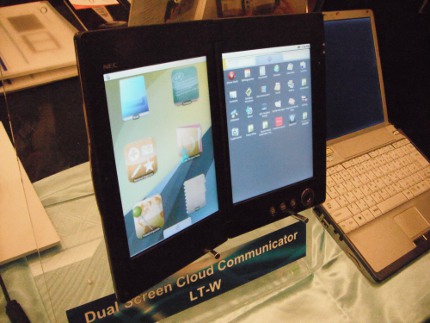 The LCDs themselves are each 7in, 800x600px each, for a total resolution of 800x1,200px across the entire device. Unfortunately they are resistive touchscreens, although the inclusion of a stylus should help to make navigation a little easier. Details were pretty slim, but apparently NEC is planning some special apps that will make the most of the unique form factor.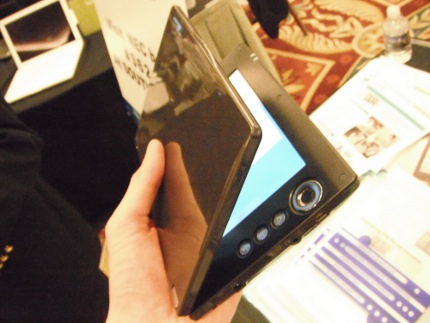 Rounding out the specs are Bluetooth 2.1+EDR, 802.11g WiFi, a rear-facing 3MP webcam, GPS, an SD card slot and a USB 2.0 host port. The hardware had a solid feel to it, despite the surprisingly light weight of the device, which apparently tips the scales at just 530g. Of course, with a lifespan of only five hours between charges, the weight could be attributed to a smaller than average battery.
As interesting as the LT-W looks, it will be limited to NEC's home territory of Japan for the time being, where it'll launch at some point in the first quarter of the year. If all goes to plan, though, a tweaked version - based on user feedback - will arrive on international shores sometime later in the year.