As expected, Apple launched a new 9.7-inch iPad yesterday, with an overall emphasis on its benefits for students / educators. Highlights of the refreshed tablet are its compatibility with the Apple Pencil, and the upgrade to the potent A10 Fusion chip, which will be able to power "incredible AR experiences". Contrary to earlier rumours this device doesn't significantly undercut the entry level price of its predecessor; it is only about 10 per cent cheaper for educators and students to purchase.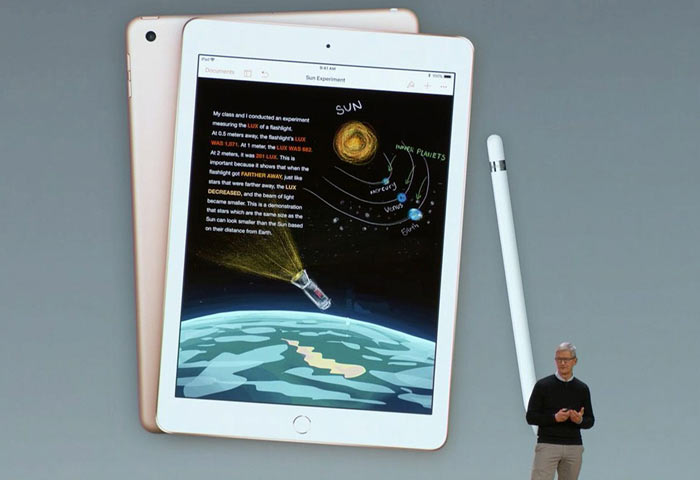 The Apple Pencil is expected to be popular with educators and students and it is more accessible than ever now it isn't confined to usage with the 'Pro' model slates. This stylus offers pressure and tilt sensitivity plus accuracy and low latency performance. Apple's iOS offers mature palm rejection technology so that users can comfortably rest their hand on the iPad screen, purposely or accidentally, and draw. The Apple Pencil will be of great utility in the classroom for users of apps like Notability, Pages, Numbers, Keynote and Microsoft Office, thinks Apple.
Powering the new iPad is the A10 Fusion chip with 64 bit architecture and embedded M10 coprocessor. This quad-core (2 big, 2 LITTLE) processor packs over 3.3 billion transistors and first appeared in the iPhone 7 and 7 Plus. Apple states that it provides 40 per cent greater CPU performance and 50 per cent greater graphics performance (with 6 GPU cores) compared to its predecessor, the Apple A9.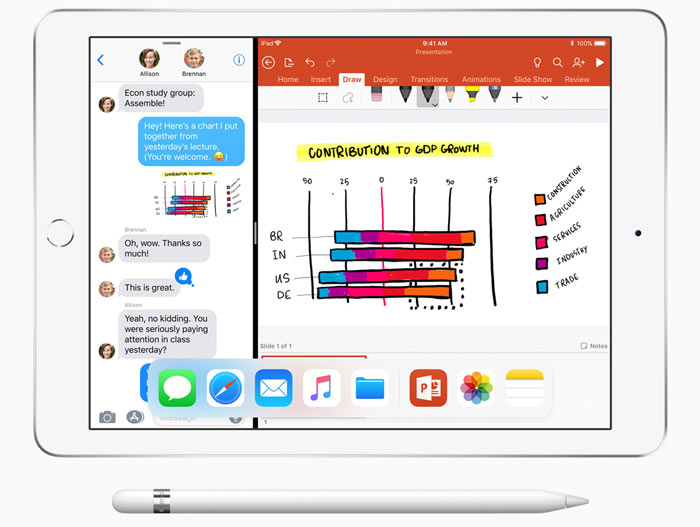 Split screen multitasking
With the improved processing power available Apple sees the new iPad as a great multitasker and a good platform for augmented reality (AR). It has equipped an 8MP camera round the back (and a HD selfie cam) which works alongside the now standard GPS, compass, and accurate motion sensors such as a gyroscope and accelerometer, to bring AR to life.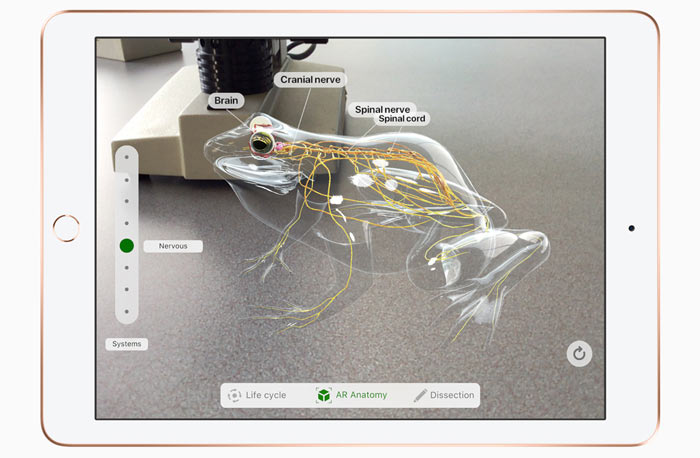 AR exploration
The entry level price in the USA is $329 and it is £319 in the UK. For this you get the 32GB Wi-Fi version. Once you have opted for your choice of colour (silver, space grey or gold) you can decide if you want more storage (up to 128GB) and whether you want to pay extra for additional cellular connectivity. Here in the UK a fully loaded model thus attracts a price of £539. Don't forget that the Apple Pencil is an extra too ($99/£89), as would be a cover or keyboard/cover. From the educational pricing I've seen for the tablet and stylus it's possible to get about 10 per cent off these prices. Students and teachers get an iCloud account boost of 200GB too.