We have seen a series of official news released from Qualcomm as it reveals its upcoming flagship SoC part by part. Thanks to a series of detailed press releases we know quite a lot about the new SoC, its CPU, its camera and GPU, its DSP and Zeroth powered features. Last week Qualcomm also detailed the X12 LTE modem built-in to the upcoming Snapdragon 820, said to offer up to 600Mbps Cat 12 LTE downlink speeds.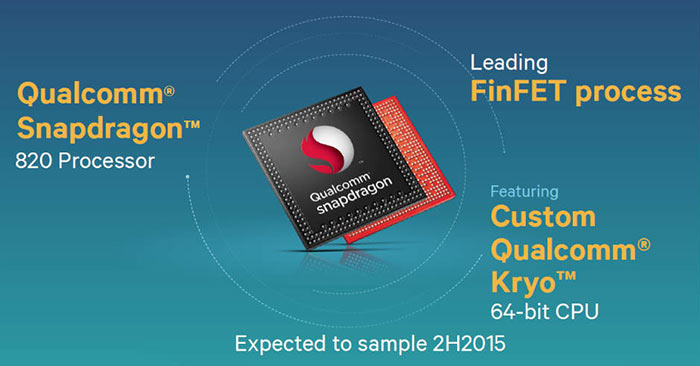 The 64-bit Snapdragon 820 processor has all the great sounding new technology above and will also benefit from a heterogeneous computing architecture. With some previous generation top-end Snapdragons being accused of being a bit toasty it is good to hear that Qualcomm will be moving to a new 14nm FinFET process for the Kryo CPU. This, plus architectural optimisation and customisation helps it achieve "up to 2 times the performance and up to 2 times the power efficiency when compared with the Snapdragon 810 processor," says Qualcomm. Wouldn't it be good to have some real-world benchmarks to check the new SoC's actual performance?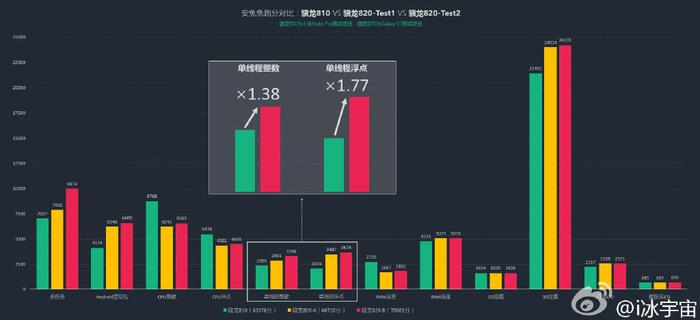 Benchmark results, purported to compare a smartphone with a Qualcomm Snapdragon 810 and two versions of a Samsung Galaxy S7 with an older and newer Snapdragon 820 revision, are shown above. The Qualcomm Snapdragon 810 is the green bar, the older revision Snapdragon 820 (820-A) is orange and the latest tweaked Snapdragon 820 (820-B) is shown in red. The highlighted section of the above chart shows the 1.38x single threaded integer and 1.77x single threaded floating point results.
Another test result, is said to show an AnTuTu overall score for the current Snapdragon 820 revision as being 70,661. That's about 10,000 points above the Qualcomm Snapdragon 810.
It will be interesting to see how much further the Snapdragon 820 can improve before it is launched in the first devices. Qualcomm needs this new flagship processor to do well in not just performance but in power efficiency, to enable the next generation of slim, cool running, longer battery life mobile devices.