Recent reports indicating that Qualcomm's Snapdragon 810 chipset, the company's highest performing platform to date, is a bit of a hot potato look to be undeserved. STJS Gadgets Portal has revealed its findings in a recent heat test of the new Snapdragon 810 and compared it to the established Snapdragon 801 chipset. The results clearly show that the 810 runs cooler than the 801.
The waste heat produced by the Snapdragon 810 was allegedly high enough to cause Samsung to drop it from its upcoming Galaxy S6 smartphone. However LG has already completely dismissed the issue, it has confirmed it observed overheating problems related to the use of Qualcomm's premier 20mm SoC in its smartphones.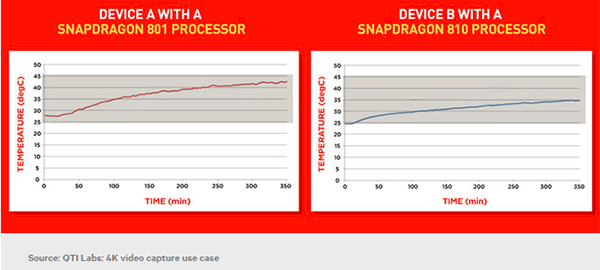 The STJS heat tests measured the temperature of the surface of the smartphone in a 25 degree Celsius room-temperature environment. The charts show two separate tests ran on Device A (commercial smartphone with Snapdragon 801) and Device B (pre-commercial smartphone with Snapdragon 810), one with Asphalt 8 being played to check gaming performance, and a second where 4K videos were recorded on the devices. In both tests, Device A got hotter when performing the tasks than Device B did.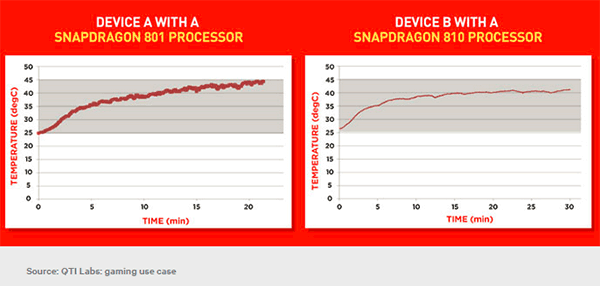 At first glance you could say the tests indicate that Samsung's slating of the Snapdragon 810 thermals is simply a smear from a competitor. Of course, this test does not singlehandedly show that overheating was not an issue with the Snapdragon 810 processor as used by Samsung in testing, as variations in device designs could change temperatures considerably. In other considerations it's not clear whether Qualcomm has since refined the 810 SoC to improve its thermal performance since Samsung decided to go Exynos-only.
Heavy-handed thermal throttling?
Another report looking at the performance of the Qualcomm's Snapdragon 810, published earlier today, sees evidence of rather heavy handed thermal throttling in the LG G Flex 2 curved smartphone.
Pondering the benchmarks gained over nine runs of GeekBench, with the Snapdragon 810 chip getting progressively hotter Phone Arena observed benchmark scores decline by nearly 50 per cent in single threaded tasks and up to 30 per cent in multi-threaded tasks. Those figures represent quite a hit due to thermal throttling being active.