We saw the interesting banana curved LG G Flex launched in South Korea just over a week ago. Some people thought that the shape might make this new smartphone more susceptible to snapping, shattering or simply breaking by being squeezed the wrong way in a back pocket, for example. However, a new video from LG highlights the LG G Flex flexible body, demonstrating that this smartphone is really bendy.
Flexible demo
In the video above you can see the LG G Flex subjected to a series of heavier weights from 8KG, to 16KG to 32KG. It effortlessly shrugs off this abuse and is shown booting up normally. LG also show the flexible smartphone face down on a flat surface being sat upon and leaned upon, demonstrating some more usual real-world mishandling.
Scratch proof-demo
LG released another video on its Korean ElectroTube YouTube channel demonstrating the scratch resistant back cover on the G Flex. The video below does a good job of showing the self-healing scratch-proof coating on the back of the smartphone doing its stuff. A time lapse sequence compares the LG G Flex back to a that of a 'regular smartphone' – both subject to abrasion by a machine controlled wire brush. In one of the examples the LG is shown to self-heal within 2 minutes.
Global launch planned
We weren't sure, following the South Korean launch of the G Flex, if or when this bendy smartphone would make it out of its home country. A report in a Korean newspaper says that the G Flex has been popular with all three major local carriers and it will be made available to customers of these networks from 12th November. "The curved smartphone is expected to be available in the US, Japanese, and European markets," said LG Electronics' vice chairman, Koo Bon-joon. However it's too early to know any dates for a UK launch.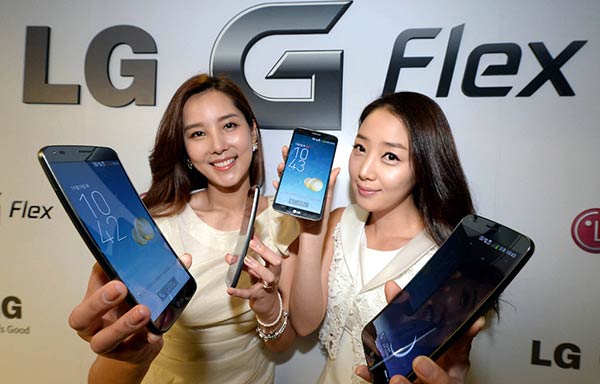 LG G Flex key specifications:
Processor: 2.26GHz quad-core Qualcomm Snapdragon 800, Adreno 330 GPU
2GB of RAM
Display: curved flexible 6-inch 720p P-OLED
Dimensions: 7.9mm - 8.7mm thick, 177g
Cameras: 13-megapixel rear, 2.1-megapixel front facing camera
Battery: 3,500mAh
OS: Android 4.2.2 Jelly Bean