Sony Ericsson has officially announced its motion-sensing F305 mobile phone, which also doubles up as a portable gaming device.

The technology employed in the F305 lets the user play games such as bowling or fishing by imitating the movements that you'd make if you were actually participating in the activity.

Targeted at a young audience, the F305 will allow for 8 hours of gaming before the need to re-charge, but they'll also be the option to purchase the Power Pack CPP-100. "Attach it to your keyring and when you need it, simply plug it into the phone to receive an instant battery power boost, " reads the press release.

The phones comes pre-loaded with "Bowling", "Bass fishing" and "Jockey" and 50 more games will be available for download from the Playnow site.

It sports stereo speakers, a 2.0" screen, a 2.0 megapixel camera and dedicated gaming controls.

Sony Ericsson has yet to price the product, which is due for release in Q3 this year.

Strange that there's no strap that comes with it. They should have learned something from Nintendo and its motion sensing device, the Wii mote.

The F305 may well be Sony Ericsson's first dedicated gaming mobile phone, but we've experienced it all before. It remains to be seen whether the F305 will really capture the imagination of our youth or whether it will be just a passing fad. We'd hazard a guess it will be the latter.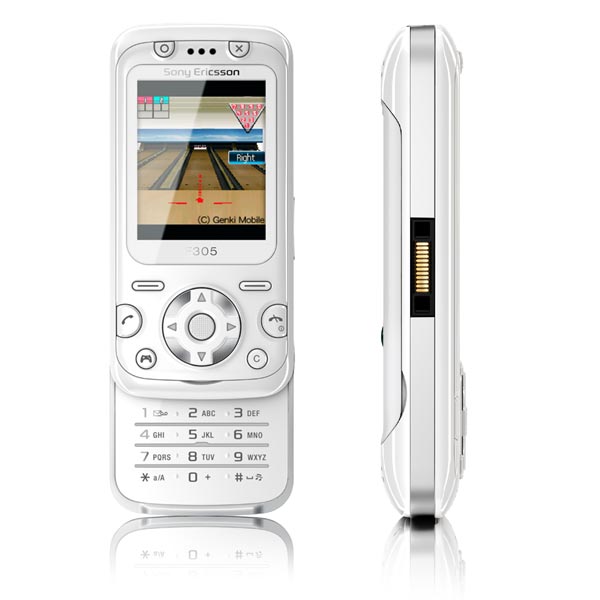 "Gaming is no longer something you do on your own. It's about having fun with your friends and interacting with the game" says Sven Totté, Head of Product Marketing at Sony Ericsson. "We have used motion sensor technology before in our phones and integrating it into gameplay is a natural progression."

For more information on the F350, check out the official press release.