With MWC a fortnight away there's still quite some time before we get to see the first smart devices powered by the Qualcomm Snapdragon 845 launch. By all accounts this is a very powerful mobile application processor, with headline official claims of it being 25 per cent faster at CPU operations and 30 per cent faster at GPU operations than the SD835. There are other significant improvements too, such as the X20 modem - boosting LTE and Wi-Fi communications speeds. It is expected that the Snapdragon 845 will be powering many regional variants of the Samsung Galaxy S9, and a new generation of Always Connected PCs later in the year. Incidentally this 10nm SoC is manufactured by Samsung.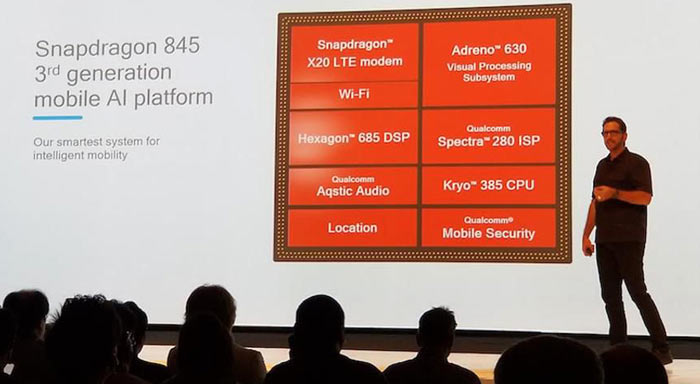 Ahead of the first associated product launches CNet managed to get some quality time to test Snapdragon 845 Android reference phones at Qualcomm's labs. The CNet team was given two hours to evaluate the phones and used a dozen benchmarking tools covering all the bases, such as, CPU, GPU, and website rendering tests.
Before we get to the benchmarks and comparisons, it's worth noting the Android reference phone tech specs:
5.5-inch LCD screen with 2,560x1,440-pixel resolution
Dual rear cameras: 12-megapixel and 13-megapixel
Front-facing camera: 12-megapixel
2.8GHz Snapdragon 845 processor
6GB RAM
USB-C
No headset jack
Not waterproof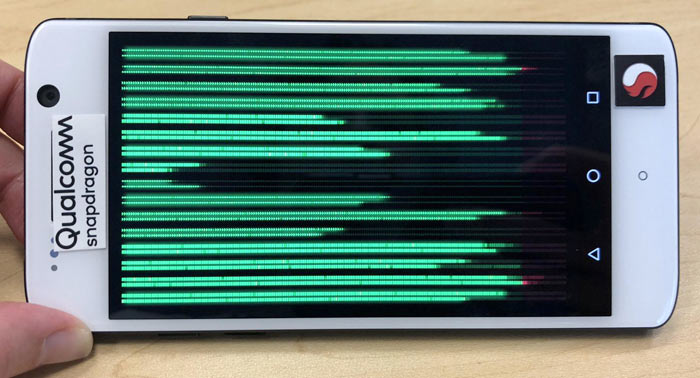 Against the above platform CNet chose to test the Galaxy Note 8, Pixel 2 XL and LG V30 - all of which are Snapdragon 835 mobiles. If you already own one of the comparison phones, already at the cutting edge, you will likely be interested in the tabulated benchmark results. I've snipped a few key benchmarks and reproduced them in an abridged table below. If you want to check out the full set of results - of course they are available on CNet.
SD845 Reference

Galaxy Note 8

Google Pixel 2XL

LG V30

Percentage faster

AnTutu

256,805

200,665

203,109

178,871

26%

Geekbench 4.0

Single: 2,439;
Multi: 8,200

Single: 1,870;
Multi: 6,411

Single: 1,911;
Multi: 6,393

Single: 1,922;
Multi: 6,466

Single: 27%;
Multi: 27%

GFXBench 4.0 Manhattan 3.1 Offscreen

3,769 frames

2,650 frames

2,566 frames

2,573 frames

42%

3DMark Slingshot 3.1 Unlimited

4,895

4,690

4,017

3,568

4%

Sunspider - Chrome (lower is better)

448 ms

591 ms

529 ms

862 ms

15%
Overall the judgement is that "Qualcomm's [performance] claims mostly hold." There are plenty of stellar performance uplifts observed alongside some not so stunning increments. We look forward to seeing Qualcomm's latest and greatest shipping products and putting some of them through the HEXUS labs.