South Korean electronics giant LG has announced that its 6 inch flagship, the G Flex flexible smartphone, will be launching across over 20 European countries including the UK, Germany, France, Italy, Sweden and Austria, at the end of February.
The phone has already been on display exclusively in selected EE shops from December, for those who are eager to have a play on this curved smartphone. Powered by a Qualcomm Snapdragon 800 quad-core 2.26GHz processor and running on Android 4.2.2 Jelly Bean, the smartphone has 2GB of RAM, 32GB of internal memory and 13MP rear and 2.1MP front cameras. The handset also features LG's self-healing technology absorbing signs of minor scratches in just under a minute.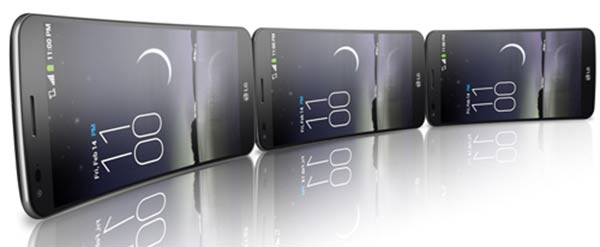 "The introduction of the LG G Flex in Europe demonstrates our confidence in the global marketplace for a curved smartphone," said Dr. Jong-seok Park, president and CEO of LG Electronics Mobile Communications Company. "As a premium smartphone, the G Flex will further establish LG as a brand that offers something unique for every consumer segment. This is a device that is guaranteed to start a conversation wherever it goes."
Although the firm has yet to confirm an exact release date, it is rumoured that pre-orders will set you back £690 SIM free with the handset will becoming available from EE and O2 in the UK.
Reports on mobilenews confirm that Carphone Warehouse has already started taking online pre-orders for the G Flex, available for £52 pm with a £79 handset cost or £42 pm as part of an upgrade with no extra costs. The contract will offer users unlimited minutes, texts and 5GB of 4G internet (O2 exclusive at CPW for now).
LG G Flex will face stiff competition
With Samsung's next generation of its flagship handset, the Galaxy S5, being one of the most highly anticipated devices of the year, LG may face stiff competition for attention, interest due to an impending clash of launch times in Europe. Samsung is rumoured to launch its Galaxy S5 handset on the 23rd February ahead of the start of MWC 2014. According to a twitter post from blogger Eldar Murtazin, Samsung is to announce the Galaxy S5 at 6pm in Barcelona on the above date.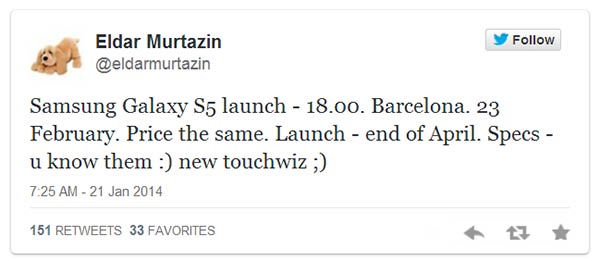 The same tech blogger, who accurately predicted the launch date of the Galaxy S4 last year, added that the price of the S5 would be similar to the S4 level and this latest flagship smartphone would become available for purchase by the end of April. With MWC just over a month away we won't have to wait long to see how accurate Murtazin's prediction is.