It's official folks! Samsung has confirmed that the GALAXY Note 10.1 Wacom-enabled tablet will be shipping in the UK (and the rest of the world) this month, along with a 3G variant in the same time-frame; available colours will be black or white.
Specifications have been confirmed by Samsung and, lining up with our earlier reports, the tablet will feature a 1,280 x 800 display, 2GB RAM, a quad-core Exynos 4 1.4GHz CPU and a rather large 7,000mAh battery. Initially the tablet will ship with Android 4.0, however, with the extra on-board RAM, there's no technical reason Android 4.1 can't find its way to the tablet, once Samsung works-out how to integrate it with some of the tablet's cool custom features.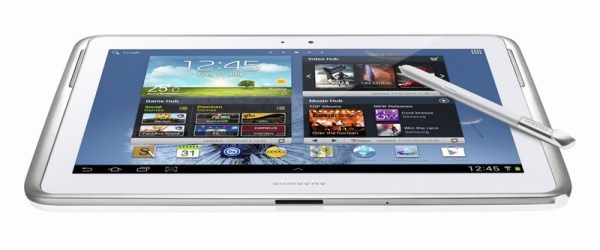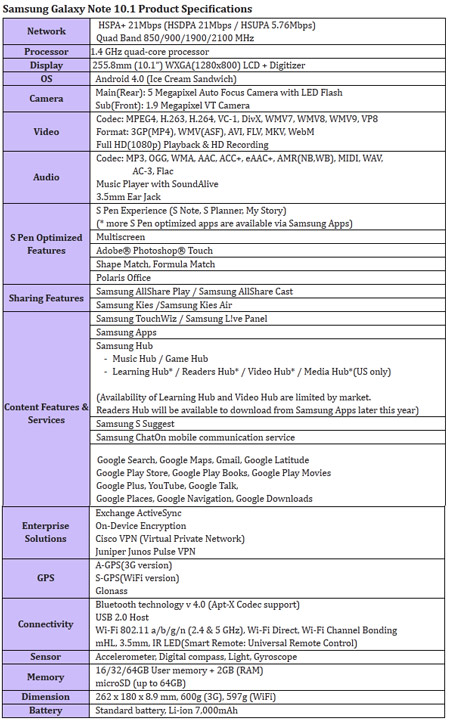 At 600g for the 3G variant, the Note 10.1 is no lightweight, however this is in-part due to the tablet's rather large 7,000mAh battery and, all things considered, it's still a little lighter than Apple's iPad 2 - the firm's lightest tablet. All the usual features are listed, though we also note that the tablet will ship with Adobe's Photoshop Touch, enterprise VPN support and will feature a universal remote app, enabled by an infra-red transmitter.
Somewhat upsetting, we're not seeing support for NFC and the screen resolution remains at 800p, though, from what we gather this is a technical limitation of the Exynos 4 as opposed to Samsung being stingy.
Samsung's official announcement video includes some very interesting features that caught our eye. Automatic shape and symbol recognition (think turning sketches into professional diagrams and documents), a specially formatted knowledge-base, a resizable and draggable keyboard and, in-line with multi-monitor learning habits, the ability to watch YouTube videos on one half of the screen, whilst taking notes on the other.
Pricing is yet to be confirmed, however UK retailer, Handtec, is suggesting a starting price of around £453, which, if true, would make the Note 10.1 a highly appealing piece of kit.