Following speculation after speculation, it's finally arrived, an official date and location for the announcement of Samsung's GALAXY S III, next-gen smartphone; May 3rd, in London.
Tweakers.net first reported confirmation of a press invite, with other sites soon following suite. So as a recap, exactly what can we expect from the GALAXY S III?
It has been confirmed by a Samsung Exec. that the phone will be toting a Samsung Exynos 4412 quad-core ARM Cortex-A9 SoC. Despite hopes that the phone may feature the upcoming Exynos 5250 with Cortex A15s and the new ARM Mali-T604, we are leaning towards the original suggestion of the 4412, as it has been recently announced that the latest iteration of the Meizu MX will feature a quad-core Samsung Exynos A9-based SoC, demonstrating that the chip is available and in mass production.
The quad-core Exynos 4412 should offer a CPU performance boost over the dual-core 4210 found in the GALAXY S II of around 60 per cent, with a GPU performance boost of 50 per cent, according to Samsung, with the device likely featuring an overclocked ARM Mali-400. With a manufacturing move from 45nm down to 32nm HKMG, the 4412's performance boost should remain within a similar power domain to the 4210.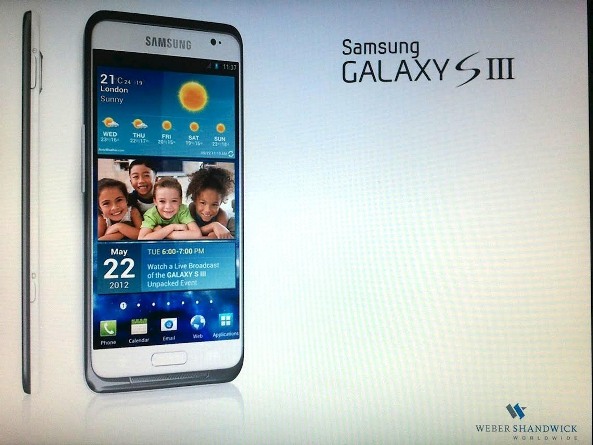 It's been strongly hinted that the phone will feature a 1,280 x 720 Super AMOLED Plus display, bringing Samsung's mobile AMOLED technology in to true HD for the first time, with previous 720p offerings based on the firm's pentile display technology, which alternates between red and blue pixels in order to achieve its HD density. The screen itself is expected to be 4.65 to 4.7 inches in size, optimally resulting in a 316ppi.
Other, less substantiated, rumours suggest that the device could be as little as 7mm thick, feature a 12-megapixel BSI camera, NFC and could potentially include support for wireless charging.
For the most part, these rumours are complete speculation and may very well prove to be incorrect, however, we now have only 17 days and counting, left to find out.