We've kept quiet about the smartwatch announcements at MWC 2015 so far. Instead of tacking snippets about the various new wearables into company specific MWC announcement articles I thought it would be better to offer a round up once the dust had settled – and here it is. We haven't been flooded with smartwatch and smartband releases but there have been some new thoughtful releases so far including the Haier Smartwatch with the purpose of keeping tabs on kids and seniors, as featured in this HEXUS video.
Huawei Watch and Talkband B2
Huawei launched two different wrist worn wearables which could be classified under the smartwatch and smartband categories. These are the Huawei Watch and Talkband B2 respectively.
The Huawei Watch is an Android Wear device in a circular face form factor. It is built into a stainless steel case with sapphire glass covering the 286ppi AMOLED display. You have all the usual Android Wear customisability, Google Now, apps and features including instant messaging and call notifications. As with many smartwatches it also attempts to add health and fitness functionality so you get daily health, activity tracking and heart rate tracking built-in.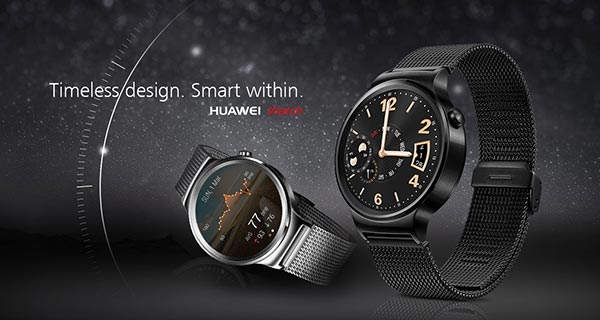 The Huawei TalkBand B2 is designed as a hybrid smartband and hands-free calling device. Its wrist-worn strength is as an activity tracker. It sports and easy to use swipeable UI to keep you up to date and informed on your travels with on-screen notifications, reminders, alarms, tracking, and monitoring in easy reach. It automatically knows what kind of exercise you are doing thanks to its 6-axis motion sensor.
The TalkBand B2 isn't an Android Wear device and is compatible with both modern Android and iOS devices. The device looks quite subtly designed and well made from aluminium and a choice of straps are offered. Huawei quotes a 6 day usage time for this device, dependent upon wireless call time usage.
HTC Grip
This is another fitness focussed wearable smartband. The HTC Grip provides fitness data tour smartphone which is processed by the Under Armour Record app for both iOS 7+ and Android 4.3+. With an integrated GPS it doesn't need you to bring your smartphone along to training but if you do it can allow you to receive call notifications, view and respond to messages, or just skip to the next song while enjoying your activities.
The HTC Grip smartband is waterproof and the band is made from breathable material. Availability is scheduled for Spring this year.
Acer Liquid Leap+
Acer has updated its Liquid Leap smartband with better ergonomics and richer functionality. The Acer Liquid Leap+ is a platform agnostic health and fitness focussed smartband which works with Android, iOS and Windows.
The device's minimal ultra-slim design is button-free and built-into a durable swappable rubber wristband. The whole unit is IPX7 water-resistant.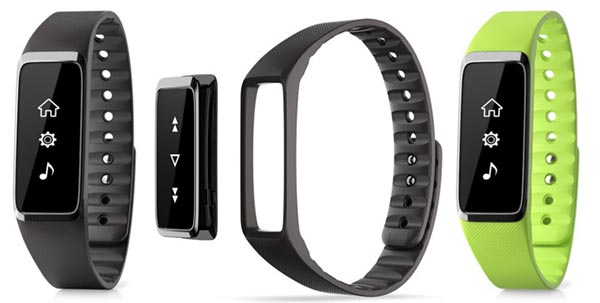 Functions include tracking the user's steps, running distance and calories burned and you can also control your music with easy play, pause, previous, and next song controls.
Pebble Time and Pebble Time Steel
Last but not least, Pebble started a new Kickstarter about a week ago for the Pebble Time smartwatch. Today updated the project by announcing a new premium version of the wearable called the 'Pebble Time Steel' sporting a machined metal case that comes in silver, gold and black. The Steel version also brings an extended battery life which means your Pebble could now last as long as ten days on a single charge.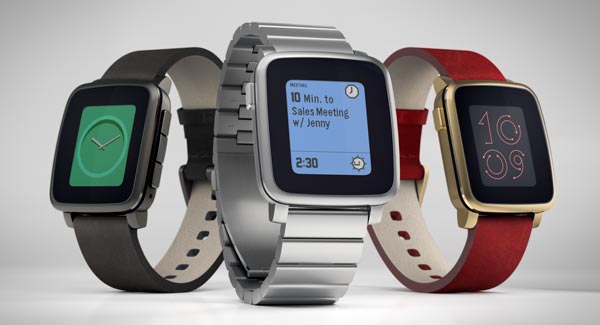 Both Pebble Time designs feature an always-on colour e-paper display (+backlight button) and a microphone for voice control and responding to notifications. Buyers get to enjoy full compatibility with the 6,500+ existing Pebble apps. The new Pebble Time interface uses a before / now / next set of three buttons to keep you up to date and organised.
The Pebble Time (Steel) is thinner and lighter than previous models and can keep going for 7 (10) days between charges. It has been designed to be water resistant and usable with any standard 22mm watch band you like – which are easy and quick to change thanks to the new quick-release pin design.