The highly anticipated Samsung Galaxy Gear smartwatch has been unveiled at IFA Berlin. Samsung has managed to be the first, among the big mobile device rivals Apple, Google and Microsoft, to release such a watch. The head of Samsung's mobile division JK Shin said the new device would be "a new fashion icon through the world". The watch looks a lot like the prototype in the leaked video stills we saw a few days ago and does not have a curved screen. Samsung has decided allow the Galaxy Gear to only be used in conjunction with another Galaxy device.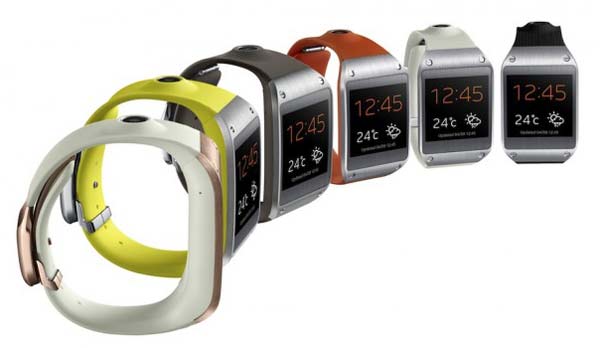 At the launch Samsung's JK Shin said users would benefit from 'smart freedom' thanks to this new wearable tech "Samsung GALAXY Gear frees users from the need to constantly check their smart devices while maintaining connections. It provides what we call 'smart freedom,' by allowing users to choose how, why, when and where they are connected."
As an extension to a user's galaxy device the smartwatch "notifies users of incoming messages, such as calls, texts, emails and alerts, delivers a preview of those messages and creates the opportunity for users to accept or discreetly ignore those messages." If the user sees something important which requires the use of their Galaxy device they then pick up their main device and a feature called 'smart relay' automatically reveals the full content on this larger screen.
Users can control their Galaxy Gear smartwatch via voice control, which doesn't require touch to instigate. Samsung says tasks such as making or answering a call, drafting messages, creating new calendar entries, setting alarms, and checking the weather can all easily be done thanks to S Voice.
Capturing images and sound with the Galaxy Gear is simple while you are on the move. Quick and easy recording of videos and photos is available via the 1.9 megapixel camera built-into the watch. These visual memos can then be shared via social networks. A voice memo function allows you to record dictation which can then be sent as texts to your main galaxy device.
Samsung Galaxy Gear tech specs:
1.63-inch (4cm) OLED touchscreen at 320x320 pixels
800MHz dual-core processor
1.3 megapixel camera
Sensors for activity and health monitoring
Bluetooth 4.0
Android 4.3
Over one day 'regular use' battery life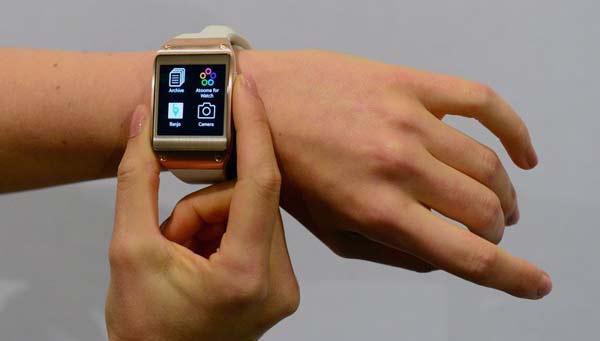 The Samsung Galaxy Gear will go on sale from 25th September priced around about £190 ($300). At launch it will only be compatible with the new Samsung Galaxy Note 3 and Galaxy Note 10.1 tablet as they are also on Android 4.3. Samsung Galaxy S3, S4 and Note 2 users will be getting the Android 4.3 upgrade "soon", which will make them compatible with the Galaxy Gear smartwatch.