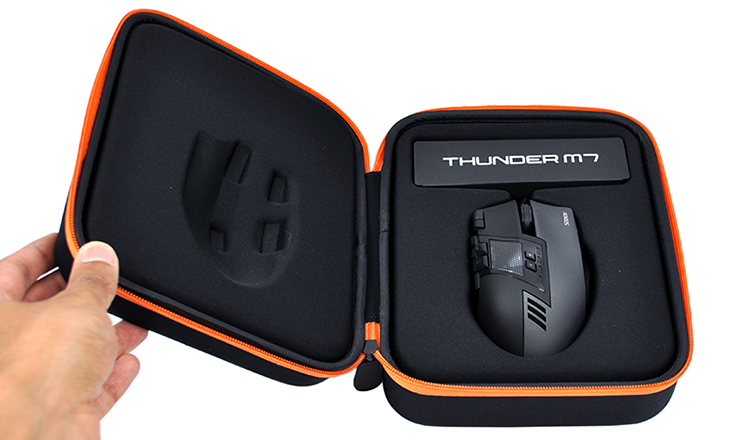 Gigabyte subsidiary Aorus has made a name for itself by launching powerful gaming laptops such as the X7 and X3 Plus, and having caught the eye of hardcore gamers, the firm is now broadening its product line by introducing an array of peripherals.
Getting the ball rolling is the company's first gaming mouse, the Thunder M7, which targets MMO gamers and touts high-end features such as an 8,200 DPI sensor and 16 programmable buttons for a £62 fee. That price tag, however, puts the device up against some stern competition from the likes of Corsair's Vengeance M95, Logitech's G600 and the Razer Naga. It's a fiercely-contested space, with many established players, but with Gigabyte funding at its disposal, Aorus should be up to the challenge.
Design
First impressions are good. The Thunder M7 arrives well-packaged in a soft-texture carry case that LAN gamers are likely to appreciate. It's a nice extra, though the case is a little on the large side and contains nothing other than the mouse itself. Similarly, the rest of the bundle is sparse and includes just an instruction manual and a set of replacement Teflon feet.
The mouse itself catches you off guard when you first take hold of it. Aorus' promotional images make it look like a chunky piece of kit, but in person it's surprisingly small and light.
Measuring 116mm (L) x 70mm (W) x 44mm (H) in size and tipping the scales at 110g, the Thunder M7 can be described as a nimble gaming mouse that's suited to relatively small hands and a claw-style grip.
And the design isn't as ostentatious as we'd feared. The two-tone black-and-grey styling works, the matte finish looks smart while providing reasonable grip, there's a small top window that lets you peer into the mouse, and though plastic is the primary build material, the whole unit feels suitably rigid.
This is, however, a gaming mouse first and foremost, and for Aorus that means plenty of LED illumination. A pair of 'headlights' are positioned up front, the scroll wheel is backlit, and if you really pay attention, you can just about make out a backlit Aorus logo on the inside - it's there, but central placement makes it difficult to see from the left-sided window.
Fortunately, for those who are put off by unwanted LEDs, they can be disabled via software - though do be aware each light needs to be turned off manually, as there's currently no all-encompassing override.
Gaming Hardware
Let's talk numbers. The Thunder M7 touts a whopping 16 buttons, these include the usual left- and right-clickers, a clickable scroll wheel, a single button on the right of the mouse that's used to switch between profiles, two small buttons on top to toggle DPI settings, two buttons integrated into the edge of the left-clicker, and finally six more buttons positioned just above the thumb rest.
That's actually 14 by our count, though Aorus classes forward and backward scroll as two further buttons. Both functions are programmable, granted, but it's a little naughty nonetheless - this is, strictly speaking, a 14-button mouse.
Joining the high button count is an ultra-precise 8,200 DPI sensor, the Avago A9800. Overkill for most gamers? Perhaps, but Aorus' implementation is good - the sensor is partnered with a pair of on-the-fly DPI adjustment buttons that toggle between 800, 1,600, 3,200 and 5,600 modes, and four on-device LEDs make it easy to see exactly where you're at. Not only is this useful for gaming, but on a high-resolution monitor (4K, for example), the heightened DPI can be a godsend when moving around the desktop.
Usability and Software
Aorus Thunder M7 Specification

Sensor

Laser (Avago A9800)

DPI

200 ~ 8,200

Interface

USB 2.0

Cable Length

1.8m

Buttons

14, plus scrollwheel

Switches

Omron, 20-million click lifetime

Image Processing

12,000 frames per second

Max. Acceleration

30g

Max. Speed

150 inches per second

Polling Rate

up to 1,000Hz

Software Utility

Aorus Macro Engine

Dimensions

116mm (L) x 70mm (W) x 44mm (H)

Weight

110g
The Thunder M7 looks smarter than anticipated and it has the underlying hardware to suit MMO gamers, but what's it actually like to use? Well, quite good, actually. The mouse does feel comfortable if used with a claw grip - it's too short and stout to be held any other way - and the concave thumb rest on the left is perfectly placed.
The ring finger rests nicely on the right-hand side, and all buttons are easy to navigate. We were worried about button overload, but in use we've been able to hit the right buttons with reasonable speed - there's enough definition between them to be able to do so, though it would have been nice for the left-sided cluster to have been backlit. Nitpicking somewhat, we'd also prefer the DPI toggle switches to be closer to the scrollwheel - they're just a tad too far back for our liking.
Aorus' rubberised scroll wheel is notched and offers good resistance, though it doesn't support horizontal scrolling, so that's something to bear in mind.
Of course, making the most of the hardware entails loading-up the accompanying software utility. This is entirely optional - the Thunder M7 will happily function as a plug-and-play device - but the lightweight (12.7MB) 'Macro Engine' utility is needed to customise the peripheral's more advanced features.
From within the software, users can re-map all the available buttons and five profiles are available, so you can easily configure unique settings for different games. What's handy is that the profiles are colour-coded and the M7's onboard LEDs reflect the profile currently in use. As you'd expect, there's also a comprehensive macro-recording facility, as well as an option to customise the DPI presets, with per-axis control.
Aorus has almost all the MMO basics covered, but playing it safe the manufacturer has created a very specific solution. The Thunder M7 works really well as a mouse for right-handed MMO gamers with small hands who have a preference for the claw grip. If you want something bigger, an ambidextrous design or perhaps a heavier weight, Aorus doesn't yet have an option, though we suspect it won't be long until size and weight-adjustment mechanisms make their way into the company's expanding product line.
Summary
Aorus is the latest PC hardware manufacturer to enter the burgeoning gaming peripheral market and does so with a premium mouse aimed squarely at MMO gamers. Priced at around the £62 mark, the Thunder M7 faces-off against established competition by touting more than a dozen programmable buttons, dynamic DPI switching and colour-coded profiles backed by a serviceable software utility.
The array of functions all work well, but with no size- or weight-adjustment options, the Thunder M7's appeal is limited to a very specific gamer. Need a lightweight gaming mouse with a high-quality sensor, numerous buttons and a form factor suited to claw-grip use? Then the Thunder M7 should be on your radar.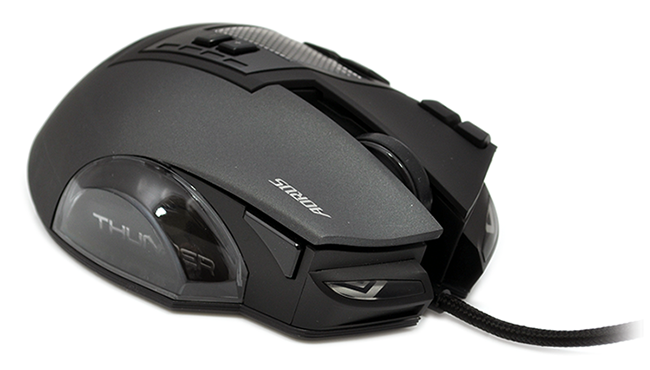 The Good
Precise 8,200 DPI sensor
14 dedicated buttons
Comfortable for claw-grip use
Dynamic DPI switching with LED status
Two-tone styling looks unique
Bundled carry case
The Bad
No weight adjustment, might be too light for some
Small profile not ideal for users with big hands
Wheel doesn't support horizontal scrolling
HEXUS.awards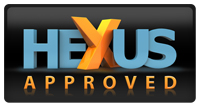 Aorus Thunder M7
HEXUS.where2buy
The Aorus Thunder M7 MMO Gaming Mouse is available to purchase from Dabs.com
HEXUS.right2reply
At HEXUS, we invite the companies whose products we test to comment on our articles. If any company representatives for the products reviewed choose to respond, we'll publish their commentary here verbatim.