Zalman has been dishing out affordable gaming peripherals for a good number of years, but the South Korean manufacturer has now decided it's time to up the game with a range of offerings aimed at the more-demanding enthusiast.
Getting the show started is a new flagship mouse, the ZM-GM4, that is expected to make its way to retail stores this quarter with a tempting £32.99 MSRP. We've managed to get our hands on a pre-production sample, and you only need to take one look at the device to realise that Zalman is gunning for the Mad Catz R.A.T.
There's a striking resemblance between the two, though that's not necessarily a bad thing, as the ZM-GM4 is made to look like a futuristic bit of kit. The aesthetic design is like something from a Transformers movie, and it should certainly appeal to the hardcore gaming crowd.
Fortunately, there's more to the design than just outlandish appearance. The semi-modular approach makes the ZM-GM4 customisable in length and width, giving the user the ability to tailor the size of the mouse to suit his/her needs.
A small hex key is screwed into the back of the mouse and, once removed, can be used to independently adjust the back or side panels by unfastening a small bolt. The system works well to a point, but make the mouse as big it can be and you'll end up with a fair amount of movement between panels. The plastic construction isn't quite sturdy enough to retain a truly solid feel when all parts are extended, and of course there are plenty of nooks for dust and dirt to gather.
Then again, the ZM-GM4 was never going to be made of carbon fibre - at least not at this price point - and though there is a bit of give to the overall structure, the mouse still feels comfortable during use.
The shape is good and the back panel fits snug into the palm of your hand. If there's a criticism it's that the protruding feet seem oddly placed. We'd presumed them to be resting points for the thumb and little finger, but their positioning is such that it's difficult to use them as rests for any finger.
Elsewhere, there's further customisation in the form of a circular hatch on top of the mouse that opens to reveal six optional weights of 3.5g apiece.
The mouse itself tips the scales at 135g, disregarding the 1.8m cable, and users can add up to a further 21g to find a desirable weight. Again, the implementation is good, and it's a nice option to have: some gaming mice are far too light for our tastes.
The ZM-GM4 is faring well in terms of shape, size and flexibility, and it doesn't disappoint in the technical specification department. Under the hood, Zalman has equipped the mouse with an Avago A9800 laser sensor that supports sensitivity settings of up to 8,200 DPI.
Overkill in the extreme? Absolutely, but it does the ZM-GM4 no harm in the bragging-rights department, and it's not the maximum DPI that's important here.
What we like is the fact that quick switching between 800, 1,600, 2,400 and 3,600 DPI is supported at the click of a button, and that there's an onboard LED indicator to let you know which mode is in use at any given time. Though, it's worth noting that the indicator isn't the most visible - it's integrated into the left mouse button, right where your finger would sit.
A total of eight buttons are available, and for the most part, they're well-placed and within easy reach. Zalman sources its button switches from Japanese manufacturer Omron, who touts a life expectancy of five-million clicks, and the mechanisms do feel reassuringly well-built and satisfying to use.
Zalman ZM-GM4 Specification

Sensor

Laser (Avago A9800)

DPI

800 ~ 8,200

Interface

USB 2.0

Cable Length

1.8m

Buttons

8

Image Processing

12,000 frames per second

Max. Acceleration

30g

Max. Speed

150 inches per second

Polling Rate

up to 1,000Hz

Dimensions (mm)

118 x 85 x 35

Weight (g)

135 ~ 156
In addition to the typical left and right mouse buttons, we have a double-click button integrated along the left edge, a DPI toggle button sat just beneath the clickable scroll wheel, forward and backward buttons on the left side and a function button, also on the left, that by default is set to launch the web browser.
The scroll wheel is notched and offers a good amount of resistance, as well as a tactile click when pressed, however it is one dimensional, meaning vertical scrolling is supported while horizontal isn't.
Zalman's thumb buttons are just a fraction too far back for our liking, but every available button offers good feedback when pressed, and there's very little chance of accidental clicks.
When the mouse makes its way to stores in the next couple of weeks, it'll do so accompanied with the latest version of Zalman's software configuration utility, pictured below.
We understand the final touches are still being applied, so while we haven't yet been able to try the configuration options for ourselves, we're told to expect support for three profiles, full button remapping, customisable DPI presets - with per-axis control - as well as a comprehensive macro creator.
Handy to know, though it's worth pointing out that the mouse will function just fine as a plug-and-play unit.
There's a lot on offer at a competitive price point, and looking past the eye-catching design and customisable form factor, it's the underlying sensor that makes the ZM-GM4 a noteworthy challenger to the established crop.
The mouse proved incredibly accurate during use on a variety of surfaces, and there's enough range between sensitivity settings to suit both ultra-precise navigation and fast panning. We didn't experience any jittery movements, though as with most Avago sensors, there does appear to be a hint of acceleration that you'll need to get used to.
Overall, the ZM-GM4 represents a bold step for Zalman, and it's a mouse that is worth keeping an eye on. Much is made of the DPI race and the pros and cons of laser vs. optical, but with so little to separate the very latest sensors, the buying decision for most will come down to comfort, form factor and price. If Zalman can meet the estimated £33 price tag, the ZM-GM4 offers plenty to like through length, width and weight adjustment, a powerful sensor, eight configurable buttons and sci-fi styling that makes the mouse look far more expensive than it is.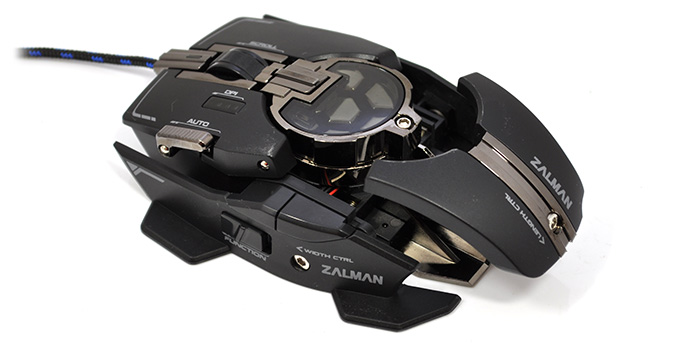 The Good
Looks cool
Keen pricing
Super-accurate sensor
Very comfortable in use
Adjustable size and weight
Eight configurable buttons
The Bad
DPI indicator obscured during use
Chassis will flex when fully extended
Wheel doesn't support horizontal scrolling
HEXUS.awards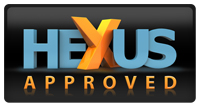 Zalman ZM-GM4
HEXUS.where2buy
The Zalman ZM-GM4 is expected to become available in Q1 2014.
HEXUS.right2reply
At HEXUS, we invite the companies whose products we test to comment on our articles. If any company representatives for the products reviewed choose to respond, we'll publish their commentary here verbatim.