GFWL Serves Up A Stinker
On the court, however, it's a very simple control scheme. The addition of the power shot bar, which fills up as you partake in rallies that adopt your specific play style - and allows you to unleash a virtually unstoppable shot when full - reduces the time that you'll be involved in excrutiatingly long rallies, a feature of previous games. Still, the basic three-button control scheme means that skill is largely based on accurate timing, as well as your ability to anticipate the ball's arrival and second guess your opponent's movements on court. The fast pace and the intensity of the matches - a trademark of the Virtua Tennis series - are still a highlight and fans of the series will instantly know what to expect, while new players should get some enjoyment out of its high-octane, back and forth, hypnotic rallies.

The ability to switch the camera to an over-the-shoulder view, which was added to the series in 2009, provides a more immersive experience on court too, while the sound of player's grunting, crowd noise and umpires that try and keep the peace give the matches an authentic feel. Animation is also slick, even though it fails to showcase famous player's individuality on-court, and overall the graphics are typically what you'd expect from a tennis game, with players looking like their real-life counterparts and moving loosely across court as they smash lobs impressively and switch effortlessly onto the back foot to line-up a shot.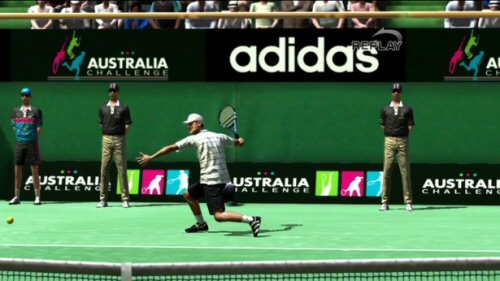 Online, the Games For Windows Live (GFWL) platform offers custom and ranked matches, but choppy animations and delay that kicks in just before a player hits the ball has made for some really horrible, laggy matches. The fact that you can play arcade mode while waiting to join up with a challenger is a nice addition, but high ping rates when you do get in a match are frequent and stability online is currently a big issue. We understand this may be due to gamers playing Virtua Tennis 4 who live in countries that don't have GFWL. Apparently, what these people do is sign-up to the service, pretending they're from a country where the GFWL platform is based, and therefore cause connection problems between those who are based in the country hosting the game. GFWL is available though in 35 countries, so we doubt this is always the issue. All we know for sure is that we've yet to play one game that has been free from lag.

Virtua Tennis 4 offers, without doubt, an enjoyable, fast-paced game of tennis - much in the same way that the original Dreamcast game did and every subsequent entry has. Online play is disappointingly unstable via GFWL, but offline matches flow, cross-court rallies can be exciting and the mini-games always provide some refreshing entertainment. With the Xbox 360 version featuring Kinect support, the PS3 taking advantage of Move and the Wii version utilising Motion-Plus, there's little to make this PC stand out from the crowd. However, with only Top Spin providing rivalry to the Virtua Tennis franchise, and the latter providing a different type of pace and feel to 2K Sport's title, Virtua Tennis 4 is the place to go for fast-paced, arcade-like thrills.



The Good

Fluid and technically impressive game of tennis
Fun mini-games prove to be a welcome interruption to standard tennis matches
Slick animation mimics the movements of real-life players

The Bad

Online multiplayer is a drop-in, drop-out mess
Like previous games in the franchise, it still lacks depth and feels like another upgrade
HEXUS Rating

Virtua Tennis 4
HEXUS Where2Buy
Virtua Tennis 4 is available to purchase from Play.com.
HEXUS Right2Reply
At HEXUS, we invite the companies whose products we test to comment on our articles. If any company representatives for the products reviewed choose to respond, we'll publish their commentary here verbatim.