The World's Top Tennis Stars Hit the Courts Again
With the Virtua Tennis franchise, SEGA has always presented an accessible tennis experience rather than a deep simulation of the sport. However, the foundations laid down by the first game in the series, on Dreamcast in 2000, have changed little over time and its arcade heritage is still deeply embedded in its roots. As a result, Virtua Tennis 4 is still a game where mastering three simple controls – spin, lob and slice – and ensuring court positioning is spot on, is all you really need to think about. And, while that tried and trusted formula does undoubtedly offer a fluid and technically impressive game of tennis, it does feel like a series that is stuck in a bit of a rut with minor incremental updates to each new entry in the series rather than anything that truly propels it to the next level.

Virtua Tennis 4 boasts a predictable range of game modes, including the return of some unique and surreal mini games, an exhibition mode, an online arena and a revamped world tour campaign. There are five surfaces to play on, a variety of events- including The French Cup and English Tennis Classic - and some of the top names are present, including the likes of Rafael Nadal and Andy Murray. There's also a few new additions to this year's roster, including Britain's Laura Robson and Argentinian Juan Martín del Potro, so there's a comprehensive list of tournaments and players that should delight true tennis fans. Additionally, there's also the option to customise your character as much as you see fit with a variety of hairstyles and clothing. It's a fairly weak customisation system that lacks any depth, but if you want your player to really stand out on court this is where you make it happen.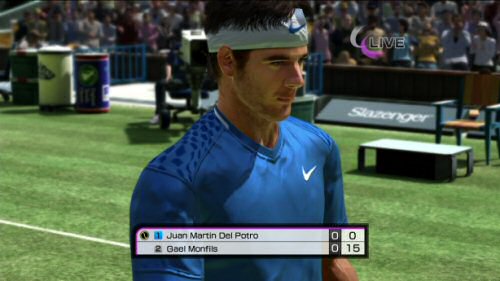 The bread and butter of Virtua Tennis 4 is the World Tour mode which is presented differently than previous games but boasts exactly the same content. With a game board full of tiles that represent events, you're given tickets which determine how many spaces you can move on the board thus restricting some of the events available to you and forcing you to jump into game modes that you may have previously tried to avoid. It adds absolutely nothing to the gameplay, but it's more interesting than simply picking an event and it does ensure that you're not just competing in the same type of matches over and over again. And, in typical Virtua Tennis style, there's a range of standard single and double matches mixed up with some bizarre events, including one where you have to play in fancy dress. Mini-games also make a return, offering a variety of surreal moments that provide a refreshing alternative to the standard matches.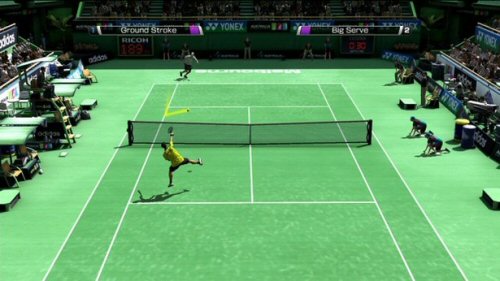 Indeed, it's these strange events that really sets Virtua Tennis apart from the rival Top Spin series, tasking you with objectives such as collecting eggs, turning over poker cards to get the best hand or grabbing all of the shopping bags on the court while avoiding giant tennis balls. Nonetheless, fans of tennis will still get the majority of kicks from playing Virtua Tennis 4 without gimmicks, earning cash, rising up the rankings and becoming a star in your sport. In addition to standard matches, training plays a large part in World Tour mode. As you train your player to perfect the likes of forehand and slice, you also have to ensure you don't tire them out too much - otherwise you'll see them limping and underperforming during matches. It's quite a balance to strike to get your players in top shape, especially as the matches increase in difficulty, but it does add depth and challenge to the career mode.