Gameplay impressions
What do we like?
Let's begin with the match engine. In 2008, we lacked the confidence that our actions in the dressing room were being accurately translated on the pitch. That confidence has certainly been restored in Champ Manager 2010. During our time with the game we've witnessed on numerous occasions how our change in tactics has affected the action on the pitch. For instance, by bringing a substitute on with a high heading ability and increasing the tempo of the game, while getting the wingers to cross the ball into the box frequently and changing the style of play to all-out attack, we've gained an equaliser with only minutes to go. Trusting the match engine to play out our tactics is extremely important and this is the first of the Championship Manager games that we feel does this accurately.

On match-day, there's a wide variety of tactical choice at your finger-tips that gives you enough of a chance to be able to change the sway of a game by chasing a goal, or defending your lead. Setting up players to man-mark, or take on defenders, for example, translates onto the pitch and you can now watch those tactics play out more efficiently thanks to the new engine. It helps immensely that the new animated match engine gives you a better view of the action rather than just following blimps on-screen. You can actually see who's performing on the pitch rather than having to scan numerical data. The new match engine and extra tactical features have given the series a new dimension and added depth.

Champ Manager still isn't as in-depth as Football Manager, but the Prozone tool is one area where you can get an incredible amount of accurate data and then use it to improve your team. You can click on key moments in the game, such as free kicks, shots on goal or passes completed and get a visual representation on the pitch - in the form of lines and arches showing you the movement of players. In addition, this is supported by tons of numerical data produced by analysis of all of your team's strength and weaknesses. If you want to go even deeper into the scientific side of soccer you can choose expert mode, click on the likes of Joe Cole and view his visual representation of any moment in the game, by fast forwarding and rewinding to a specific point. The Pro-Zone tool is available to help you analyse every aspect of your team's performance – and we mean every.

You're able to work out exactly which part of the pitch you've been losing possession of the ball or see whether your winger has been making successful runs down the flanks or not. Whatever you choose to study, Prozone gives you an insight into how your team and individuals are playing and therefore you can act on your findings and amend your tactics accordingly for the next game.

Despite the depth of the ProZone tool, Championship Manager 2010 is an accessible football management sim with a slick, clutter-free, user-interface that is a breeze to navigate. Informative, yet non-complicated tutorials, ensure that there's no need to refer to an instruction manual, so training players, navigating the transfer market, or setting up training rotas is extremely easy to pick up.

Though we're looking forward to seeing how CM Season Live pans out, it's too early to say whether it's is a worthy addition or not, but we do like the idea of jumping into shoes of a manager mid or close season and fighting for a team's survival, or even trying to sustain a good run in order to clinch a play-off place.

Overall, the biggest plus point and change to the Champ Manager series is that we believe our matchday tactics really do pay dividends on the pitch and that the gameplay is challenging. In previous Champ Manager games we've seen some bizarre score-lines that didn't seem to reflect the strengths or weaknesses of both sides, but Champ Manager 2010 seems to have addressed that problem and matches are far more in-line with the scores that you'd expect to see.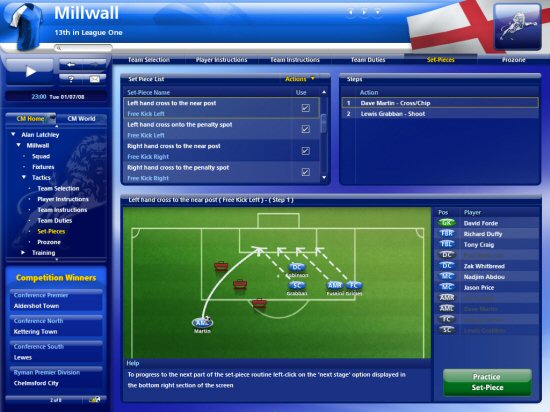 What don't we like?
We've almost played through a full season now and haven't seen the results of the set-piece creator pay off on the pitch, which makes us feel that our efforts have not really been rewarded. As a result, we probably won't use it next season.

The balance between depth and simplicity has still not been totally refined. On one hand you get the incredibly deep pro-analysis tool and a great match day engine, but on the other hand you get a pitiful range of options for your pre-match and half-time team talks and a set-piece creator that doesn't do the job its supposed to.

It's a testament to how far the Championship Manager series has come in the last five years that we don't have anything else negative to say about our experience thus far. 42 games into the season and we're utterly addicted to scouring the transfer market for bargains, setting up training routines, choosing our team on match-day and then watching our efforts play out on the new 3D engine.

Final Thoughts
Championship Manager 2010 is a far cry from Beautiful Game Studio's first effort in 2005. Though it lacks the depth of the Football Manager series, it does deserve to be judged on its own merits. Championship Manager has now become a viable alternative to Sega's football simulation and we have a feeling that the pay-what-you-want scheme may well turn out to be a stroke of genius.

Final Score: 8.5/10