Bespoke 3D match engine
Team: Walsall
Division: One
Position: 8th (Play-off hopefuls)

What's it about?
Ever since Sport's Interactive, the creators of the original Championship Manager series, deserted Eidos and signed a deal with Sega to develop the Football Manager franchise, both publishers have been going head-to- head each year in a battle to create the most addictive footy sim.

The new Championship Manager series, which is five years old this year, was built from the ground-up by Beautiful Game Studios (BGS), who has slowly but surely raisied its game each year in a bid to compete against Sega's critically acclaimed series. BGS's trump card this year is that it's been practically giving Championship Manager 2010 away to anyone who has pre-ordered the title. Paying as little as £2.51, thousands of gamers have taken advantage of the industry's first pay-what-you-want scheme.

So, what's new? Well, Championship Manager 2010 varies only slightly from previous games in the series in terms of gameplay, with micro-management being the order of the day, but it does boast a number of aesthetic changes, tweaks to the match engine and new features that have been embedded over the huge, number-crunching, data processing spreadsheets that calculates your every tactical maneovre and training regime in order to calculate a result and play out a virtual game of football.

As the manager, scout, financial director, or trainer you can choose to have total control over every aspect of your team and your club's management, or alternatively you can allocate jobs so that you can just get on with the main aim of the game: coaching your team to glory in the domestic league of your choice and hopefully gaining cup success along the way.

In the 2008 version, Eidos netted itself quite a scoop by gaining the exclusive rights to feature the Pro-Zone analysis tool, which is featured once again in 2010, giving you an unprecedented breakdown of action on the pitch. The analysis tool is reported to be so accurate that it's used in the real-world of football by managers around the world. As far as brand new features go, the biggest addition this year is the enhancement to the match engine. Instead of having to watch text or 2D blimps running around the pitch, you can now view the matches with fully-animated 3D footballers and take advantage of several new camera angles.

Other enhancements include a set-piece creator, so that you can practise and hone your skills prior to kick-off, whereas a number of aesthetic changes, including a world map that allows you to quickly send scouts to different parts of the world at the click of a button, aim to make navigation through the menus more interactive and pleasing on the eye. Blurring the edges between fantasy and real-life, Championship Manager 2010 also features Sky Sport's-style news tickers and newspaper reports from the likes of The Sun and The Telegraph that keep you informed of all the latest football news and gossip.

CM Season Live is another feather in the cap for Eidos, as it's the first time such a feature has been included in a football sim. The service costs £5 for 6 monthly updates and each update features full information for 49 competitions across 10 European countries containing all the scores, league standings, and competition placings for every club and full player info including signings, scorers, average ratings, major injuries and suspensions

By introducing the pay-what-you-want scheme, Eidos is clearly hungry to catch up with the Football Manager series. Not only does the schemes have the potential to increase its fan-base in the long-term, Eidos seems very keen to give as many footy-sim fans as possible a taste of its new Championship experience. We guess it must be good then, right?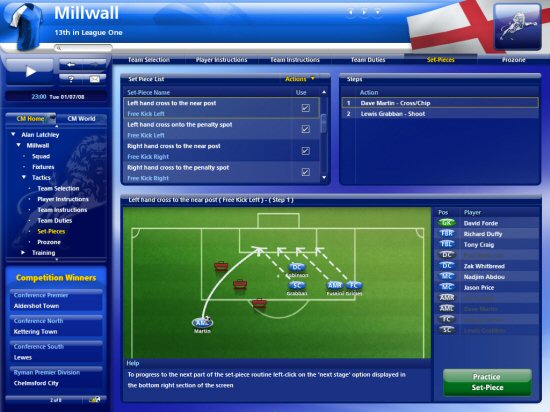 Gameplay impressions overleaf...