The Hybrid Capacitive Switch
First thing's first, what exactly is a Topre key switch? Effectively a hybrid of mechanical and rubber-dome solutions, a Topre switch is a capacitive design that features a conical metal spring sandwiched between a rubber dome and electrostatic layer. Pressing the key causes a capacitive sensing mechanism on the underlying PCB to register the actuation and pass it on to a controller. This configuration allows for N-key rollover, meaning each key press can be detected individually.
That's similar to an ordinary mechanical keyboard, isn't it? Well, yes, but what makes a Topre switch unique is that it offers some of the feel of a rubber dome along with the precision of a mechanical switch. A best of both worlds, you might say.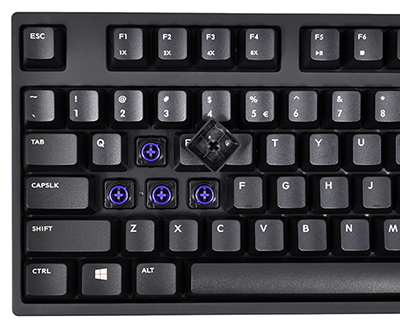 As with all keyboards, it's in use that you notice the unique feel of the Topre design. The keys have mechanical attributes - there's 4mm travel and a precise 45g actuation force on every single key - yet the mechanism isn't as harsh as, say, a Cherry MX setup.
When pressed, the keys respond with a 'thock' rather than a 'clack,' resulting in the tactile feedback you'd expect but in a smoother, less vocal configuration. There's no noticeable switch noise and you don't hear the keys bottoming out.
Going the extra yard to deliver something a little different, Cooler Master has modified the Topre stem to make it Cherry MX compatible. See the + keycap fixings in the image to the right? They ensure that any Cherry MX keycap can be attached to the NovaTouch TKL, so there's plenty of scope for customisation.
Topre switches with Cherry MX customisation? It's a tasty combination that Cooler Master dubs the 'Hybrid Capacitive' switch, and we understand this unique flavour will be exclusive to the manufacturer in the months ahead.
Summary
The market for gaming keyboards has never been so competitive. There are more options than ever before, yet as a frontrunner in the field, Cooler Master is in bullish mood and describes the NovaTouch TKL as "the best feeling keyboard on the market."
It's an assessment that we'd be inclined to agree with. The NovaTouch TKL does feel fantastic to use, and ultimately succeeds at marrying the strength and precision of mechanical with the smooth, quiet feel of a rubber-dome board.
For those who love the feel of a Topre switch and crave the customisation opportunities available from Cherry MX keycaps, it's a match made in heaven. But this is a very niche solution, and at £150, it becomes difficult to recommend.
Cooler Master has focussed on one particular type of gamer - the kind who prefers the tenkeyless form factor, isn't concerned with backlighting, wants a Topre switch, has a preference for custom Cherry MX keycaps, and is willing to pay a significant premium for that specific setup.
As a daily driver we're not convinced we could make such sacrifices - we're surprised by how much we actually miss the numpad when it isn't there - but when we're gaming, the feel of the NovaTouch TKL is hard to beat.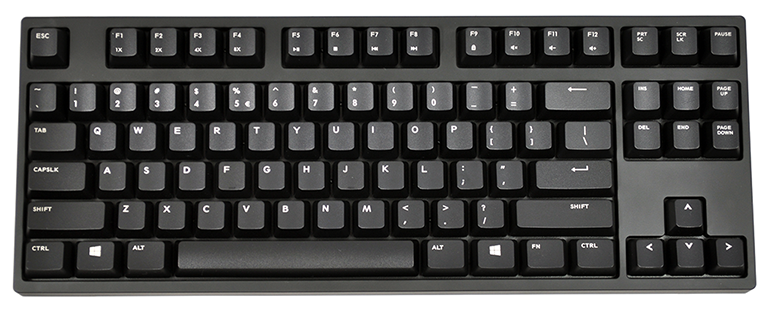 The Good

The Bad

Key switches feel fantastic
Accepts any Cherry MX keycap
Solid build quality
No software required
Size ideal for gaming

Pricey at £150
Niche feature set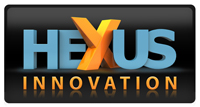 Cooler Master NovaTouch TKL
HEXUS.where2buy*
The Cooler Master NovaTouch TKL keyboard is available to pre-order from Overclockers UK and stock will be available in Europe from late November.
HEXUS.right2reply
At HEXUS, we invite the companies whose products we test to comment on our articles. If any company representatives for the products reviewed choose to respond, we'll publish their commentary here verbatim.