The Ultimate Typing Experience?
We get to experiment with all sorts of gaming paraphernalia here at HEXUS HQ and ever since Cooler Master's exclusive unboxing back at EntaLive 2014, we've been itching to try the NovaTouch TKL keyboard .
Priced at a jaw-dropping £149.99, this premium peripheral is described by the company as "the be all and end all of keyboards," and aims to be the number one choice for gamers seeking a mechanical solution.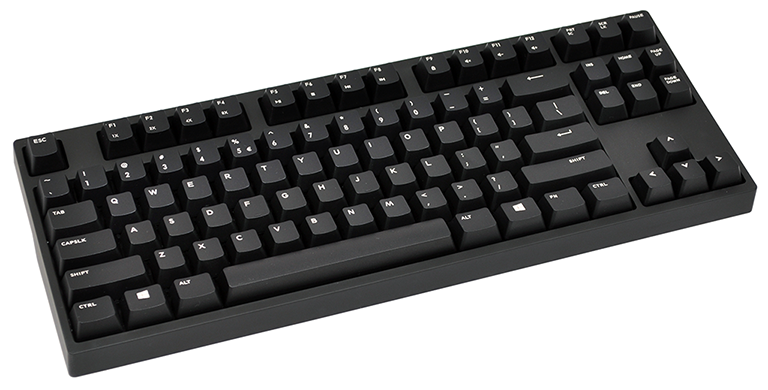 Remove the NovaTouch TKL from the box and your first reaction may be a raised eyebrow. It's quite small, it's a keyboard, it has very little flair, and yet it costs a heck of a lot of money. What's the deal?
Spend a bit of time with the board and you may eventually start to justify the expense. What Cooler Master has done is create a niche design. Want a small keyboard created primarily for gaming and outfitted with Topre switches? Then look no further.
Simple But Effective
From a design perspective, we're definitely fans of the no-frills approach. The all-black aesthetic gives the entire unit a simple-yet-stylish look and the rubberised coating on the keyboard tray makes it feel like a quality product. That feeling is backed-up by a reassuring 895g weight, which along with four rubber feet helps keep the board planted during use.
Simple rear height adjustment is made available via a pair of standoffs - these too are finished with rubber tips - however in use we found the board's default incline to be just about right. Raising the back makes it a tad too tall for our liking, though it's helpful to have the option nonetheless.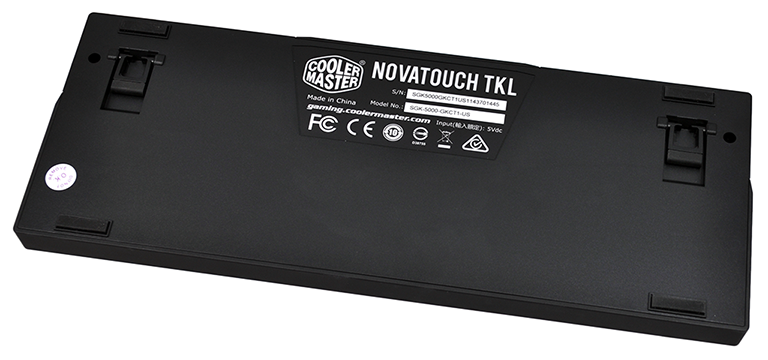 For a keyboard as pricey as this, you might have expected a lengthy feature set, but that isn't the case. There's no backlighting, Cooler Master doesn't include any macro-creation software and heck, it's a tenkeyless layout, meaning no integrated numpad.
That's a sign of the NovaTouch TKL's gaming ambition. The lack of a numpad is said to allow for "more comfortable positioning," as it keeps your mouse hand closer to the keyboard. Connectivity is equally straightforward - a six-foot braided USB cable attaches to the rear - and the bundle contains only two other items of note; a keycap remover; and a set of rubber 'O'-rings used to further quieten the keys.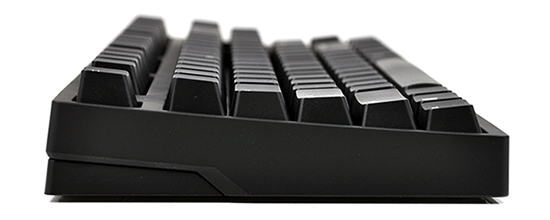 There are no dedicated media controls, though the F keys do offer some useful controls. F1 through F4 are used to control keystroke repetition (1x, 2x, 4x or 8x), F5 to F8 provides multimedia shortcuts, F9 locks the Windows keys, and F10 to F12 control volume. Note that these are secondary functions, so the FN key needs to be used in unison.
As far as layout is concerned, there are no major surprises. Windows keys are available either side of the spacebar (both are locked with FN+F9), and though it's entirely a personal preference, the only potential disappointment in our book is the Enter key, which sadly isn't a double-height offering.

The NovaTouch TKL is a lovely-looking keyboard, but as you might imagine it's the lofty price tag that poses the biggest obstacle. Readers who know their peripherals will be aware that Cooler Master's own QuickFire Rapid - which uses backlit Cherry MX switches - offers practically the same form factor and is available for £90. That's a noteworthy 40 per cent saving.
Why would anyone pay a £60 premium for the NovaTouch TKL? The answer lies with a custom variation of the Topre key switch.