Software and Summary
Corsair has designed the Raptor K40 as a plug-and-play solution, but an optional software package is available to download from the official product page. It's worth giving it a run as it includes a firmware update utility, and of course you do need the software if you want granular control of the macro functions and the LED backlight.
The lightweight software package weighs-in at under 30MB and is easy enough to navigate. Macros are simple to create, with configurable delay options, and a scrollable listing of recorded presses makes it easy to insert extra keys or intervals. The backlight system, too, has plenty of options, with an RGB colour selection tool and optional 'Pulse' and 'Cycle' effects.
A 'True Colour' option limits LED brightness to achieve better accuracy - you'll need this enabled if you want to get anywhere close to a true white, for example - while 'Max Brightness' sacrifices precise colours for greater visibility. Corsair has most bases covered, though it's a shame zones or individual keys aren't supported: it's full-backlighting or nothing.
Summary
For the target market, Corsair's Raptor K40 has a lot going for it. Users who loathe mechanical key switches and need gaming features at an affordable price should feel right at home with the board's array of functions. These include a Windows Lock key, contoured WASD and arrow-key sections, programmable macros with multiple profiles and onboard memory, as well as full-LED backlighting with more colour options than you're ever likely to need.
The positioning of the macro keys may be bothersome, and we'd liked to have seen an onboard USB port, but factor in dedicated multimedia controls, a simple software utility, decent build quality, and you have a well-rounded overall package.
The Raptor K40 obviously isn't in the same class as the premium Vengeance K70, but at half the price, it's far more accessible and is a viable option for gamers in the market for a rubber-dome solution that's a step-up from a generic board.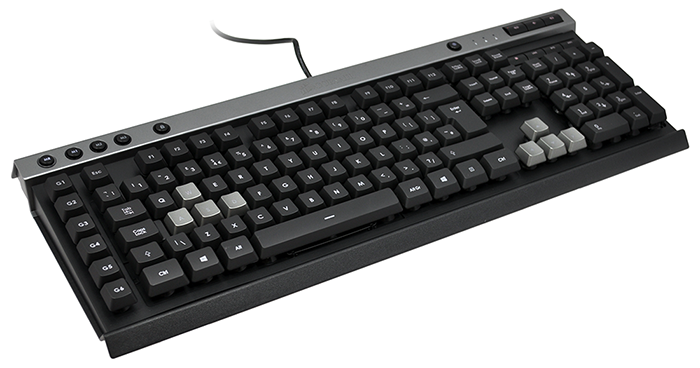 The Good
Now available for £40
Full LED backlighting
Six macro keys and three profiles
Dedicated multimedia shortcuts
Not as noisy as mechanical
The Bad
No integrated USB hub
Macro-key positioning not ideal
HEXUS.awards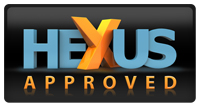 Corsair Raptor K40
HEXUS.where2buy*
The Corsair Raptor K40 gaming keyboard is available to purchase from Scan Computers, Overclockers UK and Amazon.
HEXUS.right2reply
At HEXUS, we invite the companies whose products we test to comment on our articles. If any company representatives for the products reviewed choose to respond, we'll publish their commentary here verbatim.