Geared For Gaming
Adding even more value to the overall proposition, there's also a bundled full-length palm rest. It, too, is finished in the same rubber-like black coating and, though it's very comfortable to use, it suffers from one major problem: the attachment clips aren't strong enough.
The two plastic clips are designed to keep the palm rest attached to the keyboard, but they're fiddly, weak, and unable to match the build quality of the overall unit. One of our clips has already broken, and we've resorted to using the palm rest as a standalone accessory.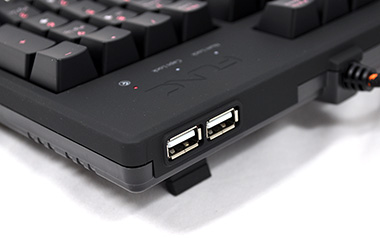 Elsewhere, func's signature black-and-orange braided cable juts out from the rear and offers plenty of length, and the top-right edge is home to a built-in USB hub equipped with a pair of 2.0 ports.
Eagle-eyed readers will note that the similar Qpad MK-85 also has audio ports alongside the USB hub, however, Func has opted against that particular feature here.
The KB-460 is designed and marketed as a "plug and play" solution, yet while that's true for the most part, you do need to consider the free downloadable software utility to make full use of the keyboard's feature set.
Software
Reinforcing the close ties between the Func's KB-460 and Tesoro's Durandal G1NL, it looks as though the optional software utility offers identical functionality wrapped in a refreshed skin.

Func's ultra-wide onscreen interface is kept clean, simple and easy to navigate, and it serves one particular function: it allows users to create, store and assign macros. Five user profiles are stored in onboard memory - each accommodating up to 10 macros - and the commands can be assigned to all but eight keys (greyed out in the image above).
Recording macros is straightforward enough once you figure out the process, however the interface on the whole feels basic and limited in scope: we'd liked to have seen the ability to adjust the LED backlight through the GUI, but as it stands the package is basically a macro-creation tool. It's certainly not a patch on, say, Roccat's companion utility.
Thankfully, once macros are recorded and assigned, you can control everything through hardware. The F7-F11 keys act as shortcuts to each of the five user profiles, and F12 enables 'Func Mode.' This delightfully-titled operating mode brings all your macros into play by activating reassigned keys and deactivating the Windows key. It's simple and it works, and the only downside we can think of is that the Func Mode status LED has come at the expense of the Scroll Lock indicator, though, that ought to be a small price to pay for the target gaming audience.
Summary
Func is a welcome player in the gaming keyboard arena. The company's first effort, the KB-460, understands what a lot of gamers are looking for and delivers many of today's most sought-after features without mixing in unnecessary frills.
Fully mechanical with gamer-orientated Cherry MX Red switches is a sign of the KB-460's pedigree - it feels great in fast-paced first-person shooters - and it's fully backlit, too. Factor in a lovely satin-like finish, a full-length palm rest, support for macros as well as an integrated USB hub, and you have one of the more convincing gaming keyboards on the market today.
Func hasn't managed to tick every box - the weak palm-rest clips and the lack of dedicated media controls may be off-putting to some - but the KB-460 is a commendable first effort. Enthusiasts with deep pockets will know that there are more desirable mechanical keyboards on the market, but at £65, Func's KB-460 is well suited to gamers wanting to go mechanical without breaking the bank.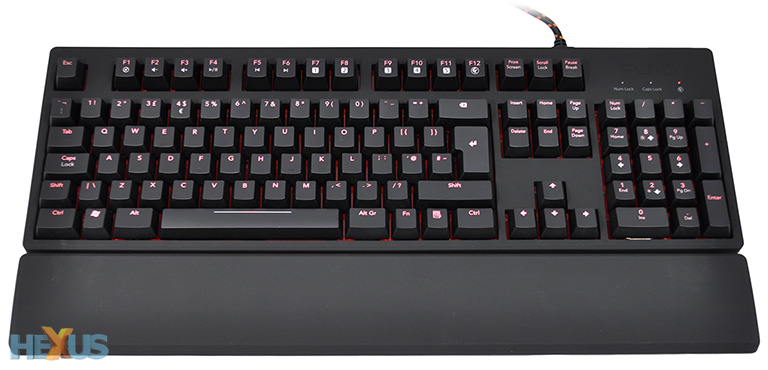 The Good
Full mechanical layout
Bright, backlit keys
Built-in macro support
Comfortable soft-touch palm rest
Integrated dual-port USB 2.0 hub
Competitive pricing
The Bad
Only available with Cherry MX Reds
Weak palm-rest clips
No scroll-lock status LED
Lacks dedicated media controls
HEXUS.awards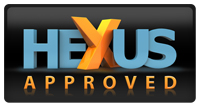 Func KB-460
HEXUS.where2buy
The Func KB-460 mechanical gaming keyboard is available to purchase from Ebuyer.
HEXUS.right2reply
At HEXUS, we invite the companies whose products we test to comment on our articles. If any company representatives for the products reviewed choose to respond, we'll publish their commentary here verbatim.
[13/12/2013] Calle Conradsson, Func Brand Manager, issued the following right2reply:

One of the most important aspects for us in regards to the KB-460 is to respond to the demand of our fans. The fans have requested a cheaper mechanical keyboard but with the same, excellent build quality you find in the market today. This has been a challenging quest but we have achieved it!

One thing we picked up is that there have been situations where the wrist rest breaks due to rough handling or because of accidentally dropping the keyboard on the floor. We came up with a solution to make the wrist rest clip independent of the keyboard so you can attach and remove it as you wish. The newly designed attachment clip allows us to send out replacement parts with regular mail so that our customers don't have to sit and wait weeks for a whole new wrist rest or keyboard.