Usage and final thoughts
Although some mechanical keyboards are overly 'clicky' and can get annoyingly loud for anyone in close proximity, the Cherry MX Black switches used here manage to tone it down somewhat. The keys aren't by any means quiet, as is to be expected from a mechanical keyboard, but it isn't the loudest, either.
In use, the switches provide just enough resistance so that you don't bottom-out the key unless it's intentional. Great for gaming, but after typing with the MEKA G-Unit for a while we found it to be a bit too cumbersome for our liking as it takes a relatively high operating force to register a keystroke - making it generally unsuitable for quick touch-typing. As much as we tried we just couldn't get to grips with working on it for any length of time and quickly reverted back to a Logitech keyboard for all typing tasks.

When it comes to gaming, which is the main purpose of this keyboard, the MEKA G-Unit stands and delivers. Super-responsive with great performance, Thermaltake has delivered a keyboard with a feature-set that appeals to various gamers. Diving straight into some Unreal Tournament, followed by Counter Strike: Source and some hectic fireball flinging in World of Warcraft - the keyboard serves up a treat. The twelve dedicated macro keys with three different profiles are a godsend for MMORPG, RPG and RTS gamers and setting them up is a fairly simple process.

Hitting the macro button on the right-hand side of the GUI brings up the 'Macro Key Setting' in which you can create new macros recorded directly from the keyboard itself. You can also add delays to keystrokes via the 'Adjust Delay Time' option, and for repeat actions there are a number of different options. These include 'Once' which repeats the macro function once with a key press, 'Multiple' which enables you to set your own repeat value, 'Press & Hold' which repeats the macro function for as long as you hold down the assigned key and 'Until Pressed Next Time,' which repeats the macro function until an additional key is pressed. Phew!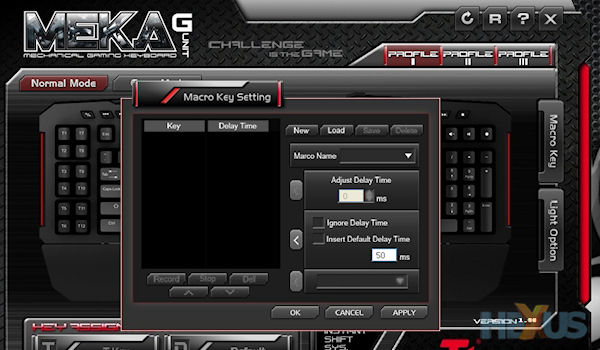 Complementing the vast array of macro keys, profiles and various macro settings is 64KB of on-board memory. This means you can save all the macros you've just created to the keyboard itself. Perfect if you're heading to a LAN and need to hook-up all your gear to another system. This is definitely something that should be standard on all gaming keyboards from now on, we believe.

While gamers will no doubt find the MEKA G-Unit a pleasure to use, most of us will inevitably need the keyboard for other tasks and this is where the MEKA G-Unit takes a hit. Having spent a good amount of time typing on the G-Unit we found our WPM (words-per-minute) dropping considerably, not to mention the time spent going back to correct typos. It wasn't too long before we switched back to a membrane-based Logitech keyboard to finish the rest of this review, but as far as gaming is concerned. the G-Unit is a joy to use.

Bottom line: Priced at an expected $129.99 which should equate to just over £100 in the UK, the Thermaltake Tt eSPORTS MEKA G-Unit is a bit pricey for the casual gamer. However, if you're gaming for hours daily, frequently heading to LAN parties or just an avid MMORPG, RPG or RTS gamer, then the G-Unit is worth the outlay.

Pros

Built to last
Vast array of macro settings perfect for MMORPG, RPG and RTS gamers
Potentially doubles as a melee weapon (although we certainly don't condone it)
Superb build quality
Cons
Not ideal for typing on
Price tag
HEXUS Rating

Thermaltake Tt eSPORTS MEKA G-Unit
HEXUS Awards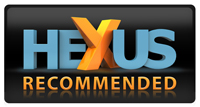 Thermaltake Tt eSPORTS MEKA G-Unit
HEXUS Where2Buy
TBC.
HEXUS Right2Reply
At HEXUS, we invite the companies whose products we test to comment on our articles. If any company representatives for the products reviewed choose to respond, we'll publish their commentary here verbatim.