Introduction
Coming under Thermaltake's Tt eSPORTS brand, the MEKA G-Unit is an absolute beast of a keyboard. Built like a heavily-armoured personnel carrier and ready to take shells from all angles - the MEKA G-Unit boasts extreme durability with high-quality Cherry MX Black switches that offer a life expectancy of up to 50 million keystrokes. Now that's some serious gaming to be had right there.

Featuring 64KB of on-board memory, up to 60 macro keys across three separate profiles, multimedia hot keys, two USB hubs, individual white illuminated sections, an advanced anti-ghosting function (meaning up to 46 keys can be pressed together without interference) and a polling rate of 1,000Hz - which is said to be eight times faster than a regular board - the MEKA G-Unit appears to be adequately armed for battle.

Keyboard Specification

Tt. Breakaway Gold-Plated USB Connection Cable (Two Metres in Length)
Audio/Microphone Jacks On-board
Seven Easy Access Multimedia Keys
60 Macro Keys across three Profiles
Tt Game Mode Option (Disables Windows Key)
Authentic Cherry Black Mechanical Key Switches
Selective Back-lighting
Cable Management Slots Located on the Bottom of the Keyboard
64KB On-board Memory
1000 Hz Polling Rate Limit
Detachable Wrist Rest for Maximum Comfort
50 Million Keystroke Lifespan
Two On-board USB Hubs
Body dimensions (LxWxH): 430x160x40mm
Straight off the bat, the packaging catches the eye, sporting black-and-red detailing and a lick of flame that looks too hot to touch – you just know there's a treat instore. Contained inside is the keyboard, obviously, which is nice and heavy - potentially doubling as a melee weapon - removable palm-rest, detachable cable with its own little drawstring bag, a canvas bag to keep your keyboard safe from harm when travelling to and from a LAN (or just your mate's house), driver discs, manual and some fetching Tt eSPORTS decals.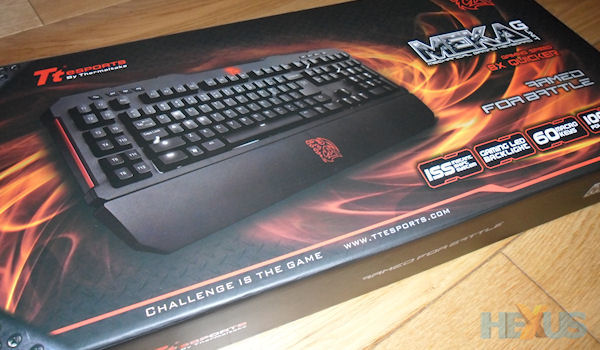 Setting up the MEKA G-Unit is easy, simply place the matte-black, tank-like device on your desk and hook up the detachable USB cable. It uses the same USB-to-mini-USB cable most people are likely to have around, so don't fret if you manage to lose it - and being detachable makes it easy to route the cable around your desk. Driver installation is equally straightforward thanks to the bundled software discs, and in total, installation is easily navigated and takes no more than a few minutes from start to finish.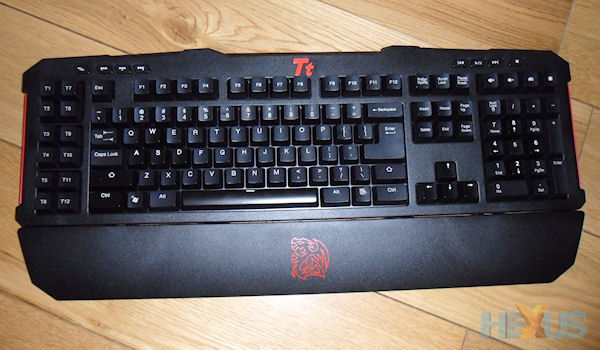 Once hooked up and ready to go you're treated to a light show (not quite the Las Vegas strip but close enough) - the WASD, 8,4,6 and 2 keys on the number pad, up, down, left, right and the space bar, which are all sections frequented by gamers, light up with a white LED backlight. Hitting the key on the top-right of the keyboard scrolls through a selection of lighting modes: off, dim, brighter, brighter still, and my favourite mode of all which I've come to call 'breathing' which offers a pulsating light effect. A greater choice of backlight colours would have been nice, but the white LEDs do provide an agreeable contrast.