Reviewer - Matty Hodgson

Here's another peripheral from Roccat, but not like anything I've seen before. This one is designed to improve cable management and improve the movement of your mouse, so let's see if it really can.

Packaging:
The packaging for the Apuri is pretty standard affair for Roccat; they package all their items in a similar fashion using the ice blue and black colour scheme. A major portion of the front and top of the box is occupied by a clear plastic window to give you a full view of this weird little peripheral.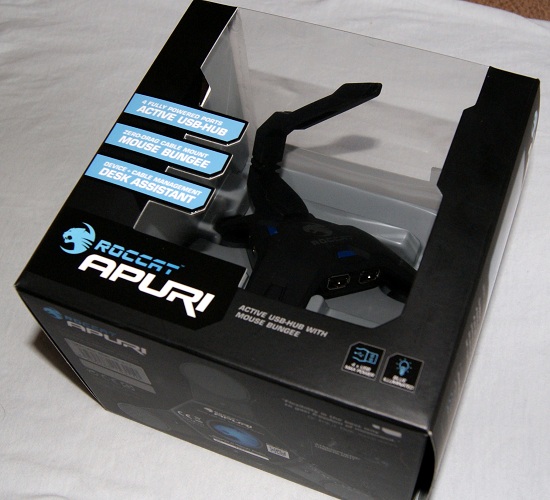 There's a lot of information on the box too. There are details of the main features on the front of the box which is expanded on the back and sides. The product is slotted neatly inside, inside a plastic mould at an angle to help you fully see the Apuri. There's also a mains plug inside, along with a USB cable and a quick start guide.

The Apuri:
My first impressions of this peripheral were "what on earth is this?" It looks like something off Command & Conquer. It's a really strange item to those who have never seen it before, but once I had taken it out if it's box and set it up, it all made sense. As soon as I had set my mouse up with the "mouse bungee" my mouse instantly felt totally different, it felt almost wireless. There was absolutely no resistance on the wire at all and the rubber crane moved about with absolute ease. It also looked quite funny when the crane dodged and dived about on my desk. The stance of this hub was very stable no matter how rough I was with my mouse. The feet are also very grippy, with barely any slide from the feet.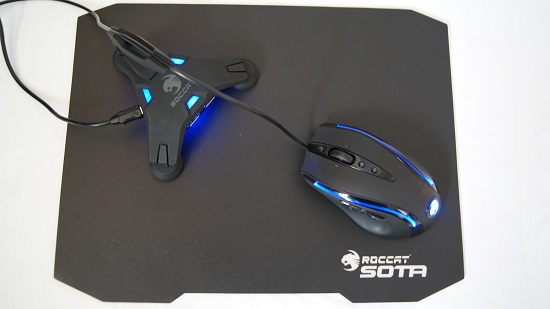 The lights on the underside and on 3 small spots on the top were great. Especially the bottom light, it illuminated my desk well and looked very nice with the other Roccat gear I was using. The aesthetics are brilliant too; it looks very nice and is a really weird but modern shape that will blend easily into the layout of your desk. The USB ports were perfect too; the external power wasn't needed for anything I was using. I had 2 mice, an Xbox 360 controller and a DSLR camera plugged into it without the external power and there wasn't even as much as a hiccup. I would imagine that the power may be needed if anything was charging or you used external HDDs though. This USB hub can also be used as just that, the bungee part can be easily detached. It looks good like this as well.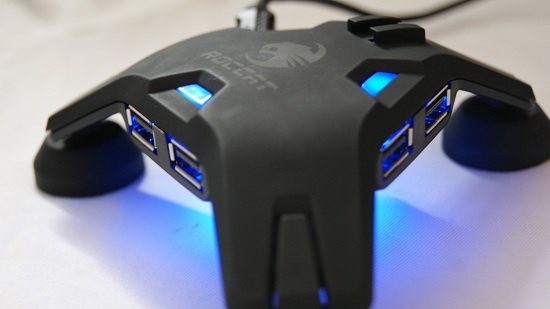 Conclusion:
The Apuri looks brilliant; it's a strange little item that is completely different to anything I've seen before. The lights look good and the USB ports work well. But then there's the cost, Roccat have priced this item at around the £40 mark, which is far too expensive for something like this. The small gains you get with the feel of your mouse and the 4 USB ports aren't worth £40. I would expect this to be around £20 at the most, and if it was cheaper, this would be a much more worthwhile product.

Pros:
• Looks good
• Lighting is nice
• Stable stance & good grip
• Mouse bungee works well
• USB doesn't require extra power for my needs
• Good packaging

Cons:
• Price. It should be half this much which brings the score right down.