Reviewer - Matty Hodgson

The surface under your mouse comes in many shapes, sizes and finishes. So if you're serious about precision, as most gamers are, then a good mouse surface is an absolute must. So can this mat meet those needs?

Packaging:
The packaging that the Roccat Sota came in was a little disappointing, a blister package with the mouse pad laid flat inside; this was quite strange considering the mouse mat was quite easily rolled up to allow better packaging. It was also very tricky to get into, scissors and a mouse mat just aren't a good idea; and so I had to be very careful. The item was displayed adequately in the packaging; sporting Roccat's typical black and blue colour theme. There's also plenty of information presented on the front of the wrap, including two swatches of materials used on the mat; the granular surface and the rubber base.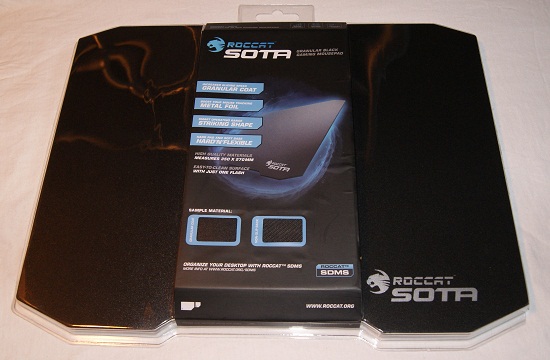 The Mouse Mat:
The Roccat Sota is an extremely appealing mouse mat; it's a matte black colour with a silver "Roccat Sota" logo printed in the bottom right. The mouse also exhibits a unique and striking shape, with the corners matching up very well with the Roccat Arvo keyboard and Roccat Kova mouse. The surface of this mouse mat has a granular finish, made from plastic, designed for extreme speed and glide; it's also very comfortable and totally scratch proof. Even after a few hours of gaming with a metal watch on, it was still fine. The base of the Sota is amazingly grippy; keeping the mat firmly affixed to the desktop, allowing you to concentrate on your game. The edges of this mouse mat aren't as good though, they're very sharp, owing to the plastic they're made from; this scratched my arm a lot after a couple of hours of use.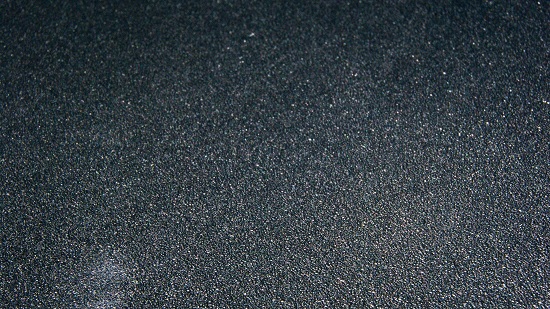 The size of this mouse mat is good, measuring in at 350x270mm making it ideal for those wishing to purchase an average size mouse mat. It allows a good swipe round at a low DPI setting. Or it enables more than enough room to swing the mouse about while being used at high DPI. The pad is also quite thin, at only 3mm deep, but it still provides good cushioning if your desk isn't perfectly smooth.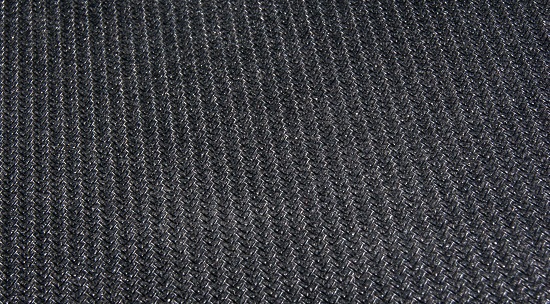 With this being a mouse mat, cleaning has to be easy, and this mat was really easy to clean. Just a quick swipe with a wet cloth and everything comes off. Mouse glide is a big plus with this mat. I tested it with several mice and they all moved remarkably well. And with it not being made from cloth, there aren't any directions where the performance degrades. The precision of this mat isn't as good as others though, but this mat is designed for speed, not control. It works very well, even at 5600DPI. It also works flawlessly at 400DPI. So this area gets a big thumbs up.

Conclusion:
This is a very nice mouse mat; it looks good, feels nice and cleans well. But most importantly, it performs. The packaging is a small hiccup, but that only gets in the way once. But this mat just isn't good value for money at around £18 to £20; there are plenty of other mouse mats out there that can do the job much better for less outlay. But overall it would make a good addition to your desk.

Pros:
• Mouse glides well
• It's accurate
• The grip on the base is incredible
• Scratch resistant
• The size is good

Cons:
• Blister packaging
• Shape of packaging
• Price
• Sharp edges