Microsoft has revealed how the Xbox One console and SkyDrive cloud storage service are integrated. Using your Xbox One you will be able to enjoy viewing all the photos and videos in your personal SkyDrive collection or those shared with you by others.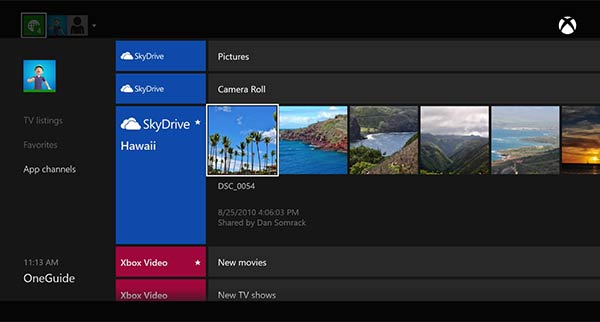 "Xbox: Go to SkyDrive."
On the Xbox Blog, Dan Somrack, Program Manager for SkyDrive, writes that "Starting on November 22, when the new console becomes available, SkyDrive on Xbox One will provide a seamless, beautiful experience for you to kick back and enjoy photos and videos in your own personal collection, or those shared with you." You will be able to control your access to SkyDrive quickly and intuitively using voice and gestures – thanks to Kinect.
Somrack talks through three 'experiences' that work great with SkyDrive and the new Xbox; making slide shows from your photo archives on SkyDrive, easily sharing photos and videos with friends and relatives and thirdly 'Snap and see' with auto uploads from Windows Phone to SkyDrive.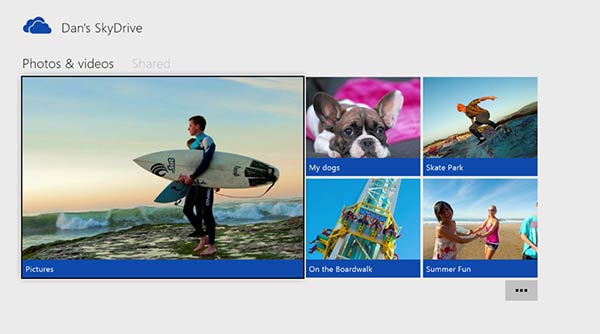 Your photos and camera roll will be available as channels from inside the Xbox OneGuide which is also the home to live TV and on-demand streaming. Somrack also explained his favourite way of enjoying his photo library is with Xbox Music snapped to the side providing a soundtrack.
Xbox One All-in-One Demo
Just in case you missed it this weekend, embedded below is an 'all-in-one' demo of using the Xbox One dashboard used in real time, as demonstrated by Microsoft's Yusuf Mehdi and Marc Whitten.
Xbox One launch title install sizes
So the Xbox One comes with a 500GB hard-drive pre-installed. You might be curious to know how many games you can fit on there. Luckily Xbox One magazine has published a list of launch titles and their install sizes yesterday.
Assassin's Creed 4: Black Flag, 20GB (PS4 = 20GB)
Battlefield 4, 33GB (PS4 = 40GB)
Call of Duty: Ghosts, 39GB (PS4 = 49GB)
Dead Rising 3, 19GB
FIFA 14, 8GB
Fighter Within, 9.2GB
Forza Motorsport 5, 31GB
Just Dance 2014, 22GB
Killer Instinct, 3.4GB
Lococyle, 13GB
Madden NFL 25, 12GB
NBA 2K14, 43GB (PS4 = 50GB)
NBA Live 14, 9GB
Powerstar Golf, 3.9GB
Ryse: Son of Rome, 34GB
Skylanders: Swap Force, 15GB
Xbox Fitness,246MB
Zoo Tycoon, 2.6GB
Zumba World Party, 24GB
You can see from the above list that games take between 246MB and 43GB of your storage space. I have added the PS4 game install sizes to the above list from here. It looks like PS4 games are, in general, considerably bigger - what conclusions can we draw from that, if any?