The launch trailer for Titanfall 2 has just been published on YouTube. It's a cinematic affair, as two pilots and their titans do battle, with a tweaked version of the song 'Bang Bang' (My Titan Shot Him Down) serving as the soundtrack. Titanfall 2 'Become One' is thus named as it seeks to show the "incredible speed of a Pilot with the devastating size of a Titan" in action.
In the last few days, running up to the game becoming available, EA is encouraging gamers to pre-order to get access to the Angel City Map three days early. There is both a standard and deluxe edition of the game pre-orderable, with the latter version including future DLC packs. If you are interested in the single player aspects of this upcoming game EA has provided some blog posts and videos showing you what to expect.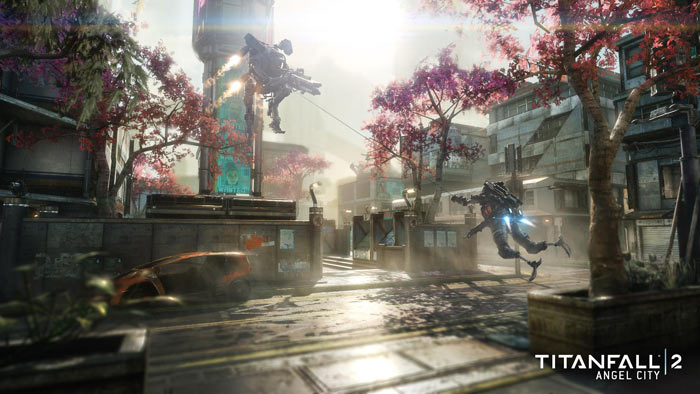 We published the official PC requirements for minimum, recommended, and Ultra 4K60 displays back in September and you can read about that here. Developer Respawn stressed that the PC version 'is not a port' and will offer superb graphics at the highest frame rates and resolutions.
In other Titanfall 2 news, the developer has announced one of the dreaded day-one game patches that we frequently see. As reported by EuroGamer, "Titanfall 2 boss Vince Zampella poked fun at the miniscule download size on Twitter." The day one patch is 88MB (62x floppy discs), and that's all you need other than the game disc. With recent PC games such as Battlefield 1 requiring a 2.4GB day one download, and Gears of War 4 an 11GB download before playing, Titanfall 2's day one patch isn't a nasty surprise.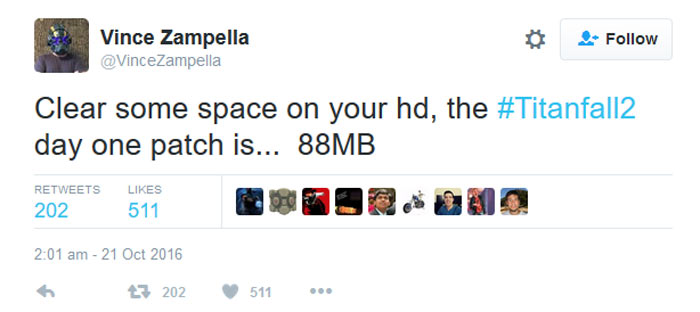 There are already a few completed reviews available for Titanfall 2, there's one on Polygon, and a more favourable one on Gamespot. The game is released on 28th October for the Xbox One, PlayStation 4, and Origin for PC.