Nvidia has a new games bundle for buyers of its top consumer graphics cards. From 2pm today (now) it is bundling free game download codes for the highly anticipated Gears of War 4, with every GeForce GTX 1080 or 1070.
The impetus behind this bundle seems to be a follow up to the Gamescom 2016 reveal and demonstration of Gears of War 4 running in 4K on a Pascal-powered PCs. The Nvidia GeForce GTX 1080 is trumpeted as the 'ideal' graphics card for running the upcoming game at 4K resolutions, with the GTX 1070 making a pretty good fist of it too.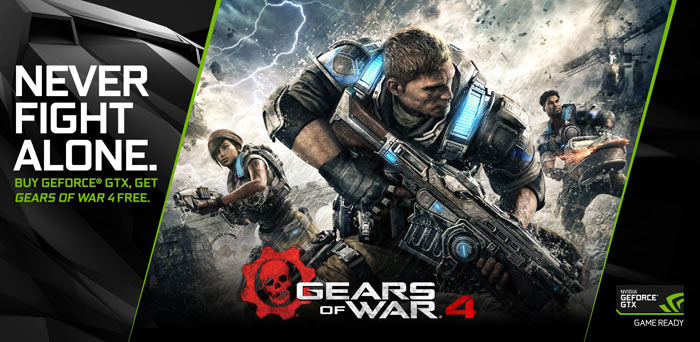 Gears of War 4 is an Xbox Play Anywhere game which means that when you pre-order the digital game you get both an Xbox One and a PC copy. You might be happy to know that Nvidia's promotion also spans formats – so you will get a copy for your Xbox One if you qualify for a free copy on PC. Not only that but saves, achievements and unlocks are fully synced between the two versions of the game.
Have a look at the 4K video, embedded below, for a taste of what the game is about.
Above is a video showing roughly 10 minutes of cooperative gameplay from the 'Rescue' chapter of the game. In the video JD, Kait and Del are chasing a large unknown enemy through an old COG fort. Along the way, they encounter two new Swarm enemies for the first time, and have to battle their way through before it's too late. Gamers can enjoy new weapons, close cover combat moves and knife executions to make swift progress through the maps.

As mentioned in the intro, the Nvidia Gears of War 4 bundle begins immediately. To qualify you must buy either a GeForce GTX 1080 or 1070 graphics card, or a desktop, or laptop featuring one of these Pascal GPUs. You must buy your hardware from a participating dealer before 20th October.
Gears of War 4 launches worldwide on 11th October.