Splinter Cell
As PC games fans will likely already know, Ubisoft is celebrating its 30th Anniversary. To share the joy with its customers it is releasing one free game, yours to keep forever, every month for the next six months. Last month it gave away Prince of Persia: The Sands of Time (2003) via its Ubisoft Club. Now it has followed up that initial freebie with the original Splinter Cell (2002).

Tom Clancy's Splinter Cell, to give it its full title, was quite a success on multiple platforms and has been followed up with five sequels on the PC, with 2013's Splinter Cell: Blacklist being the latest instalment. The original Splinter Cell was an Unreal Engine 2 game, modified for real-time light and dark environments, and won IGN's Best of 2002: Xbox Game of The Year, selling 3 million copies across platforms. The game was a pioneer in stealth video games and lighting with the player controlling a highly trained agent, from a fictional black-ops sub-division of the NSA, by the name of Sam Fisher.

As with the previous UBI 30 game, Splinter Cell will be available for about a month before it is replaced with another gem from Ubisoft's back catalogue.
Humble Bundle Revelmode
Here's a new Humble Bundle featuring games from the "curated talent network spearheaded by PewDiePie," known as Revelmode. As usual we have three tiers of payments:
Pay what you want for Robot Roller Derby Disco Dodgeball, Nidhogg, and Choice Chamber.
Beat the average price to also receive Golf with Your Friends (Early Access), Skullgirls + All Characters and Color Palette Bundle, Spelunky, and Roguelands. Average price is currently $6.45 (£4.86).
Pay $15 or more for all of the above plus Rocket League!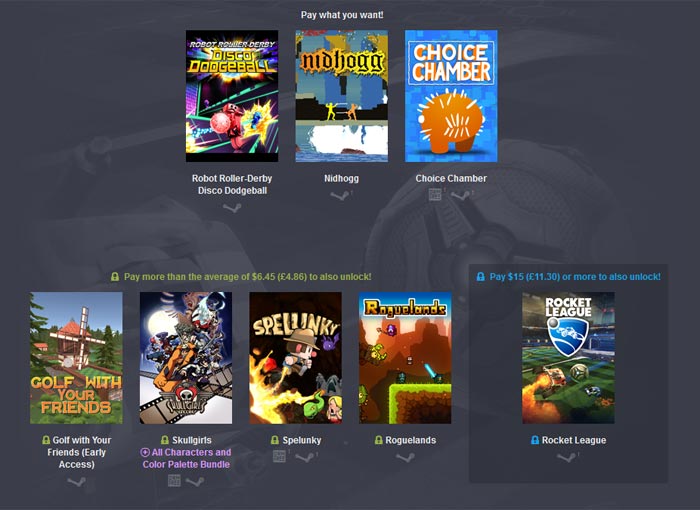 The Humble Bundlers claim the total cost of this $15 (£11.30) bundle would normally be $121. At the time of writing Rocket League alone costs $19.99 (£14.99) on Steam, so if you are interested in this well known hit game it could be a good opportunity to buy it in this value Humble Bundle.