EA/DICE has announced that despite working hard on the upcoming Battlefield 1 game, it has designed a new user interface which will be common to Battlefield 4, Battlefield Hardline, and Battlefield 1.
The new Battlefield UI "is designed to improve the experience of playing with friends and to bring relevant content to your attention," says the official Battlelog blog. The developers say the new UI will enable squad creation before entering a game, which provides a smoother team experience and helps you spawn with your buddies as soon as you are in the game. Other UI tweaks provide a recommendation engine for "maps, modes, and more," creating a relevant and fine-tuned user experience.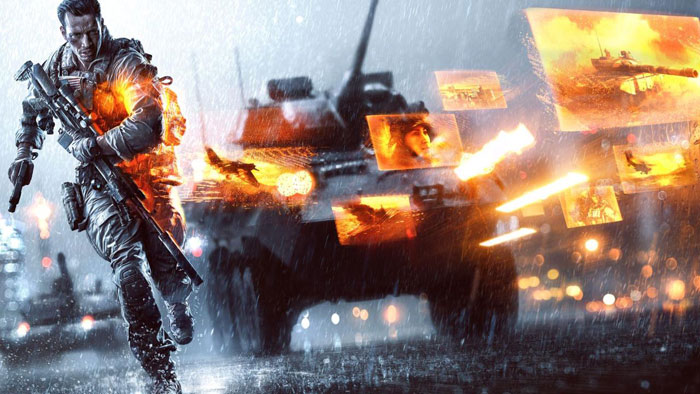 At the time of writing the new UI is a beta, rolling out to a few BF4 players. The official blog indicated that the new UI will be released with Battlefield 1 on 21st October (and Battlefield Hardline soon after that). As a bonus, EA/DICE say that once the new UI has rolled out to all three games, players will easily be able to "jump from St. Quentin Scar in Battlefield 1 to the skyscrapers of Shanghai in Battlefield 4," for example.
Battlefield 1
Digital Foundry has published a direct feed video of Battlefield 1 from PC (Intel Skylake i7, Nvidia GeForce GTX 1080, and 1440p G-SYNC monitor). The video has been uploaded to YouTube at 1440p/60Hz for your delight. Interestingly, even with the rendering res dialled up to 5K to see what would happen, the GTX 1080 still delivered "playable frame rates", according to the voiceover (with all quality settings at 'ultra').
As you can see from my screengrab below, the game tester enabled DirectX 12 in the settings. This particular setting looks like a toggle switch which would default to DX11 otherwise. It would be interesting to test the game for quality and frame rate variances between the two APIs on various modern hardware combinations.