Medal of Honor Pacific Assault will soon be available free, On the House. This WWII shooter game was originally published back in 2004. Even so, up until this promotion goes live, it is on sale in the Origin Store for a not inconsiderable sum of £7.99 ($9.99).
The EA LA studios developed Medal of Honor Pacific Assault was released two years after the acclaimed Medal of Honor Allied Assault. This Pacific themed outing puts you in the boots of Marine Private Tom Conlin, to fight through iconic battles with a squad of compatriots.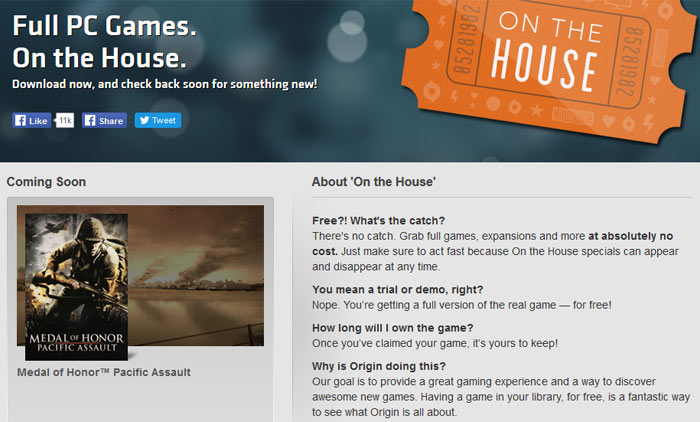 With backdrops including Pearl Harbor, Guadalcanal, and Tarawa you battle through in this first-person-shooter with weaponry such as historically accurate handguns, machine guns, rifles, shotguns, and more. The squad of soldiers you fight alongside will build up experience and develop personalities alongside your own war story.
Back in 2004, when the game was released, it was very well received, gaining a score of 8.3 / 10 from GameSpot for example. Reviewer Greg Kasavin said at the time "It can be difficult to reconcile how, exactly, such a grim event as World War II could become the context for a fun-filled action game, but it's once again made for an exciting experience in Medal of Honor Pacific Assault". EA put the Medal of Honor series on hiatus in the wake of the Medal of Honor Warfighter game which came out in 2012.
This WWII shooter will be, as customary for games in the Origin 'On the House' promotion, free for an undetermined time. So if you are interested in it, it's best to grab it as soon as the offer goes live (soon). It's easy to add to your Origin library, even if you don't want to download and install it right now. Origin's On the House games have nothing to do with Origin Access, so no subscription is required.