A new Humble Bundle games collection has been launched. Last April the Humble team launched a popular bundle based around Star Wars games and now they have returned to the same blockbuster sci-fi theme with the Star Wars Humble Bundle 2. You don't need to 'use the force' to correctly anticipate there's a bit of overlap between this year's and last year's bundles. However the new bundle may be worth a look even if you grabbed the first one – so let's ponder over the games tiers on offer this time around.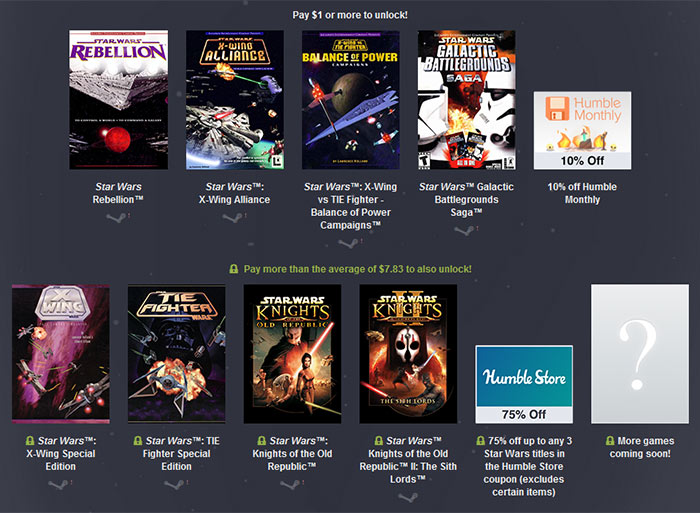 If you participate in the $1 Star Wars Humble Bundle 2 tier you can net the following games; Star Wars: X-Wing vs TIE Fighter - Balance of Power Campaigns, Star Wars Rebellion, Star Wars: X-Wing Alliance, Star Wars Galactic Battlegrounds Saga, and a coupon for 10 per cent off Humble Monthly.
At the time of writing the average selling price of this new bundle is $7.83. If you pay more than this you can secure another four games; Star Wars: X-Wing Special Edition, Star Wars: TIE Fighter Special Edition, Star Wars: Knights of the Old Republic, Star Wars Knights of the Old Republic II - The Sith Lords. Furthermore this 'beat the average' price will qualify you for a coupon for 75 per cent off up to any three other Star Wars titles in the Humble Store. As usual for the middle tier, there will be more, as yet unannounced, games added to the bundle you buy.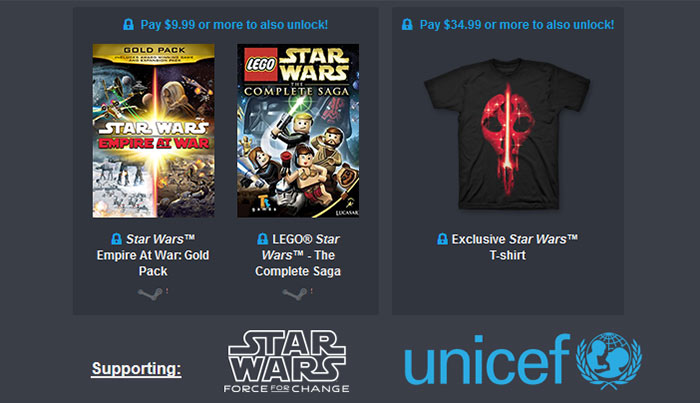 The top games tier costs $9.99 and adds Star Wars Empire at War: Gold Pack and LEGO Star Wars - The Complete Saga to your Steam game cargo haul. According to the Humble Bundle team this collection of games is worth $111 so that's quite a saving.
Last but not least, there is an exclusive Star Wars T-shirt bundle option, if you wish to stretch to $34.99 (including worldwide shipping) or more. The T-shirt features an exclusive Star Wars Knights of the Old Republic II - The Sith Lords design. This 'soft-print' T-shirt is manufactured by American Apparel out of 100 per cent cotton and available in unisex sizes XS-3X and women's S-2X. Shipping is expected by late May 2016.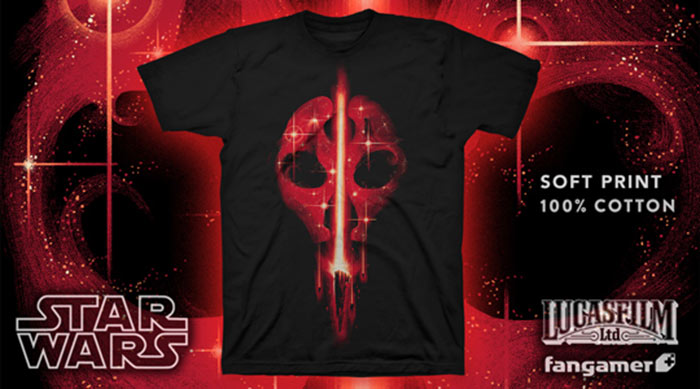 You have two weeks to participate in the Star Wars Humble Bundle 2. Remember you can allocate your payment funds, spreading it between the Humble Bundle team, games developers and charities. This time around the charities are Unicef, and appropriately, the Star Wars Force for Change initiative.