PC gamers might spend much more on their hardware but when it comes to games software there's always lots of Billy Bargains to be had. Today illustrates the great value of offers for PC gamers where we get not just a bargain $1 bundle of Ubisoft games wafted under our noses but a completely free 'no catch' full PC game gift from EA/Origin.
Need For Speed: Most Wanted
This racing game was developed by Criterion Games, famous for the Burnout series. Need for Speed: Most Wanted was released quite recently for an On The House game, in October 2012, and features an always-online component. It was given pretty good reviews at release and won the Spike Video Game 2012 Award for Best Driving Game.
During this open-world, non-linear driving game you will "need to outrun the cops, outdrive your friends, and outsmart your rivals". Most Wanted features a wide range of real-world vehicles from muscle cars, street racers to exotics. Each car can also be upgraded with improved tyres, transmissions, body work and so on.
As usual with an Origin On The House game, Need for Speed: Most Wanted is completely free to keep but it will remain on offer for an undisclosed 'limited time' so it's best to grab it and add it to your library soon, even if you don't subsequently download it. Ghost Games' Need for Speed reboot on PCs has been delayed until spring this year.
Humble Ubisoft Bundle
There's a new Humble Bundle today and its packed with Ubisoft games. The Humblers claim the whole pack is worth $157, but you can own a chunk of them from as little as $1, as usual. Let's look through the pricing tiers.
For $1 or more you only get three games this time around; Call of Juarez: Gunslinger, Grow Home, and Rayman Origins. However paying more than the average ($5.99 at the time of writing), more than doubles your games count to add Far Cry 3, Tom Clancy's Splinter Cell: Blacklist, Assassin's Creed Chronicles: China, with other games to be announced 'soon'.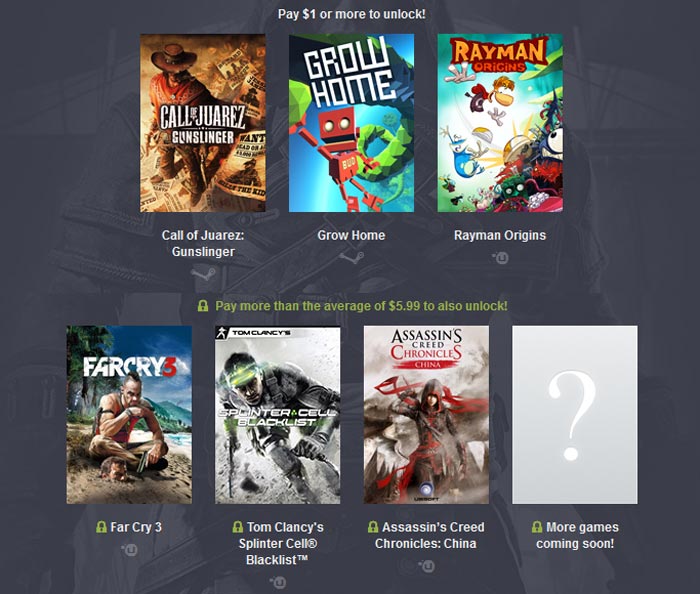 The $15 tier of the Humble Ubisoft Bundle adds Assassin's Creed Rogue and The Crew. Finally, for $75, you get all of the above plus Tom Clancy's The Division when it's released, an Exclusive Tom Clancy's The Division T-shirt, and a coupon for 66 per cent off up to any three Ubisoft titles in the Humble Store (excludes pre-orders, The Division, Rainbow 6 Siege, Assassin's Creed Syndicate, and Anno 2205).
Remember you can allocate your spend to charitable causes. This time you can donate to Extra Life / Children's Miracle Network Hospitals and Stack-Up.