GOG has kicked off its annual winter games sale. The Big Winter Sale will offer over 500 deals and discounts as deep as 90 per cent off. During the sale period you will be able to enjoy a selection of daily deals and bundles, free games (unlocked by sale purchases) and take pot luck by buying 'mystery games'. The GOG Big Winter Sale will end at 2pm GMT on Sunday 13th December.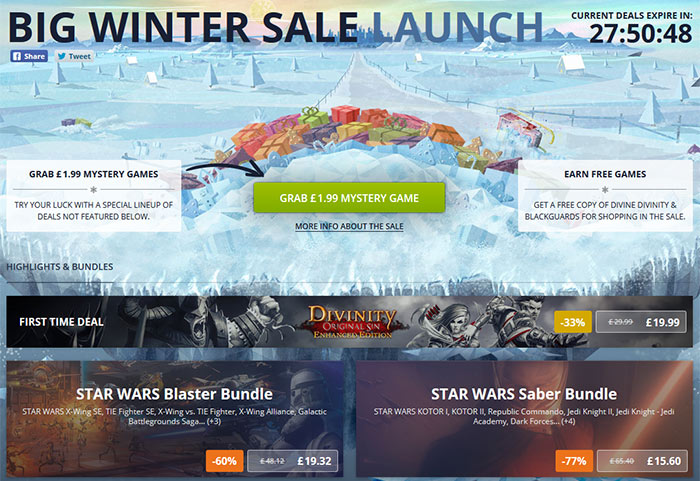 In today's daily deals section you can snap up The Witcher: Wild Hunt for £24.99 plus other Witcher games at significant discounts. Other big name games on special offer today include various Metro games, Alan Wake games and Deus Ex games. If something is on a daily deal today, it doesn't mean it won't be featured in a daily deal again at a later date. There's also a quartet of bundles on offer; two Star Wars bundles, a Lucasfilm classics bundle and a pack of Divinity games. It is noted that discounts won't be any different the next time a game or bundle reappears in the current GOG sale.
Interestingly GOG will provide a button to buy 'mystery games' for $3/£2, which don't come from the range that are in the Big Winter Sale. As a GOG member, "games you don't own will be prioritised" by the mystery algorithm. GOG guarantees each mystery game selected for you will be worth between $9.99 and $34.99 in your local currency.
As mentioned in the intro, GOG customers can qualify for free games based upon their spending level in the sale. A $5 purchase will qualify you to get Divine Divinity for free, $50 of purchases will net you Blackguards. These games can be kept or gifted to friends.
Steam Winter Sale
Steam's winter sale goes live on 22nd December, running until 4th January.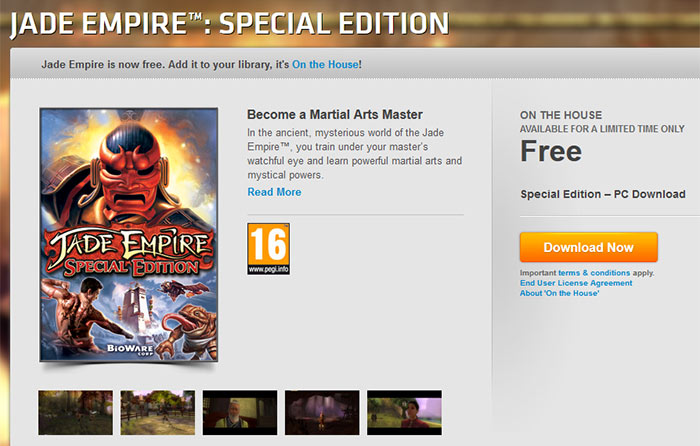 Origin 'On the House'
Jade Empire: Special Edition Origin's latest On The House title. This game was originally released 10 years ago and was developed by BioWare. In the game you experience an epic story as you become a martial arts master.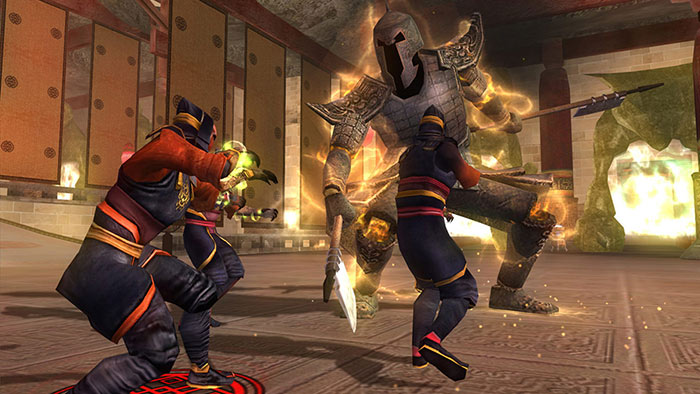 Origin On the House freebies can come and go rather quickly so if you are interested in Jade Empire click and add it to your collection sooner rather than later. Once you've done that its yours to keep and install on your system at a later date.