As GTA V for PC reaches its final furlong (week) before actual release there's quite a bit of juicy information coming out about its PC configuration. PC Gamer has some screenshots showing all the in-game PC graphics configuration options available to users. The same magazine has also been in touch with Rockstar about what kind of PC setup would one actually need, to enjoy playing GTA V in glorious 4K.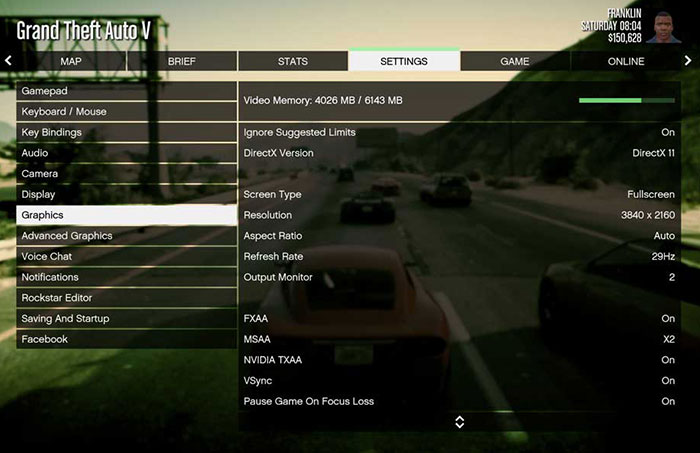 GTA V will be offering PC users a plethora of graphics tweaking options. The settings you can change are all those you would expect in a modern PC game, allowing you to tweak your visual preferences to achieve the perfect blend of frame rate and graphical splendour to an optimal level for your machine. I've reproduced a table of what is configurable via in-game control panel sliders and toggles below:
Video memory slider.
Ignore suggested limits option.
Options for screen type, aspect ratio and refresh rate.
DirectX Version Output monitor: 1-3.
Anti-aliasing: FXAA, MSAA and Nvidia TXAA supported.
Pause game on focus loss.
Scaling bars for population density, population variety and distance scaling.
Texture quality: normal to very high.
Shader quality: normal to very high.
Shadow quality: normal to very high.
Reflection quality: normal to very high.
Reflection MSAA.
Water quality: normal to very high.
Particles quality: normal to very high.
Grass quality: normal to very high.

Soft shadows options: softer, softest, AMD CHS, Nvidia PCSS.
Post FX options: up to ultra.
Motion blur strength: scaling bar.
In-game depth of field effects: on/off.
Anisotropic filtering: up to x16.
Ambient occlusion options.
Tesellation options.
Advanced graphics.
Long shadows: on/off.
High resolution shadows: on/off.
High detail streaming while flying: on/off.
Extended distance scaling bar.
Extended shadow distance bar.
Benchmark testing.
Our last GTA V news piece was about the new PC trailer which was published on YouTube, showing the PC game ticking along at 1080p and 60fps. Rockstar has published the usual minimum and recommended specs but what will a PC owner need to enjoy the game at what is commonly considered to be the minimum action game standard of 1080p & 60fps, and what about 4K?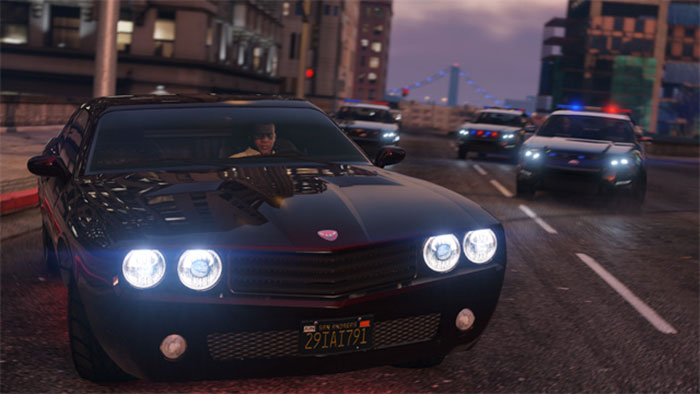 To enjoy GTA V gaming at 1080p & 60 fps Rockstar reckons that a balanced PC setup with a Nvidia GeForce GTX 660 2GB or AMD HD7870 2GB installed will be up to the job. Moving higher up the resolution scale, Kevin Hoare, president of Rockstar Toronto, told PC Gamer that "To run the game on a 4K display at 30fps you'll need at minimum an AMD HD 7870 or Nvidia GTX 760 with 2GB of VRAM." Turning things up a notch, to 4K & 60fps, Hoare is less hardware specific but thinks that a high-end SLI or Crossfire setup will do the job. Of course with all the graphics preferences available for PC owners to jiggle, there will be lots of optimisation opportunities open depending on how you like your games to look.