EA has kicked off its Origin store's (Almost) Black Friday sale. The store is offering up to 75 per cent off 'classic games' and that includes 114 games titles reduced to under £5.
Earlier in the week we heard that the Steam Store was about to launch its Black Friday and Cyber Monday weekend sale. That did indeed materialise yesterday, dubbed the Steam Exploration Sale. Valve is doing time limited deals over this traditional US festive period but the thrifty are advised to wait for the actual 'Black Friday' and 'Cyber Monday' days for the deepest discounts to arrive.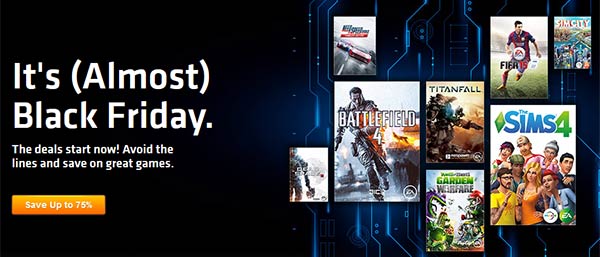 Back in EA's Origin store, it is offering similar headlining 75 per cent off pricing deals. Whether these are seen as bargains or not depends wholly upon whether you are willing to use Origin and your view of the EA games available upon it. However the Origin store highlights the following offers:
The Sims 4 at £24.99
FiFA 15 at £33.49
Battlefield 4 Premium Edition at £23.99
SimCity: Complete Edition at £12.49
Bargain hunters might be more interested at what is grabbable for under £10 and there is indeed quite a big selection of pretty new titles in this price range including:
Battlefield 4 for £7.49
Titanfall for £7.49
FIFA Manager 14 for £7.49
Need for Speed Rivals for £7.49
Stooping even lower, and as mentioned in the intro, there's a lot of games now under the £5 mark. Again these include members of the above franchises but older versions. So you have a choice of several under a fiver Battlefield, Need for Speed, FIFA, Mass Effect and SIM games.
If your pockets are completely empty, and this is not anything to do with Black Friday, you can still grab a 'new' game this weekend via Origin. The 1995 vintage Crusader: No Remorse is currently 'On the House' saving you an alleged £3.99.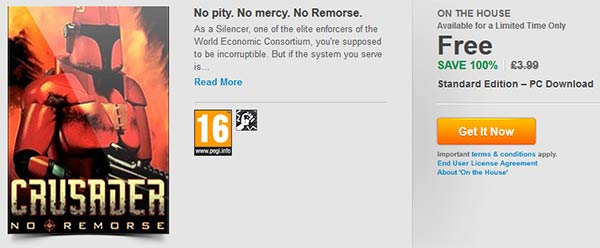 Are readers particularly impressed with these Black Friday sales or any others this year? Let us know about any bargains you have grabbed in the comments.