Ubisoft announced a range of new PC games at its E3 2014 press conference last night, showing off trailers as it introduced the games one by one. The biggest titles on show were Far Cry 4, Assassin's Creed Unity and Rainbow Six: Siege. I've embedded the trailers and teasers and filled out a bit of background info for you below.
Far Cry 4
Kicking off the event was a trailer showing the first five minutes of Far Cry 4, the sequel to the 2012 first-person shooter Far Cry 3. The new game is set in the fictional but stunningly rendered Himalayan country of Kyrat.
Day Hay, executive producer for Far Cry 4, explained that the trailer above is of the first five minutes of the game, where the player receives "a fake passport, a little bit of cash and a gun," reports VG24/7. "After that, well- you're fucked," Hay added.
Far Cry 4 is the first in the franchise with a co-op mode, allowing gamers to play through the game with a friend who will play the role of Hurk, a favourite character from some Far Cry 3 DLC.
The game is set to be released on 18 November in North America and 21 November in Europe on both consoles and PC.
Assassin's Creed Unity
Continuing to make history more exciting than inside any classroom, Assassins Creed: Unity's creative director Alex Amancio introduced the game's beautifully crafted trailer, followed by Assassins Creed: Unity E3 gameplay footage, both embedded below.
Set in Paris, the game focuses on the terror of the 1789 French Revolution. Ubisoft highlights that the open-world within the game is a systemic one, meaning that rather than following a script, the different game elements should interact according to rules independently of the player.
The gameplay demo also shows off much larger crowds than what have been seen in previous games in the franchise, along with a new stealth mode, parkour system which will allow easier descent from tall buildings, in addition to some "choose or ignore" events.
The game, with four-player co-op, is set to launch on 28 October for PC, PS4 and Xbox One.
Rainbow Six: Siege
Lastly, a 'surprise' announcement, by Ubisoft CEO Yves Guillemot, was the world premiere of long-awaited Rainbow Six: Siege's trailer. Developed as a replacement for the scrapped Rainbow 6: Patriots, the footage of Rainbow Six: Siege launched straight into two co-op teams going against each other. In this example one team has to break into a house to complete a hostage rescue mission whilst the other team defends.
The focus of the game is placed on 'asymmetrical multiplayer', where two teams of five face off against each other in six 3-minute matches. Along with the quick-fire nature of the game, it means that there are no re-spawns.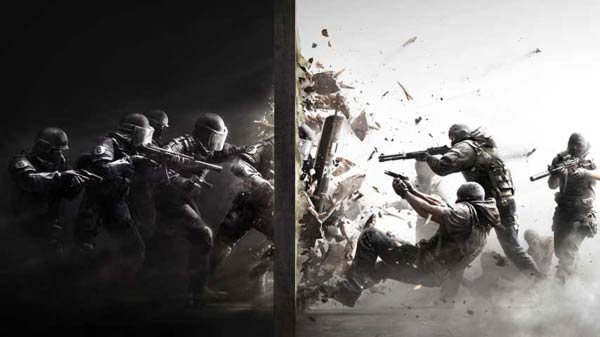 Described as pre-alpha, the development of this new game started 18 months ago and is probably still a long way to release yet. However Ubisoft said it will be coming to PC, PS4, and Xbox One, scheduled loosely for sometime next year.